Ikorodu residents speak to Pulse on their daily nightmare
People who live in Ikorodu speak to Pulse about living with the fear of Badoo.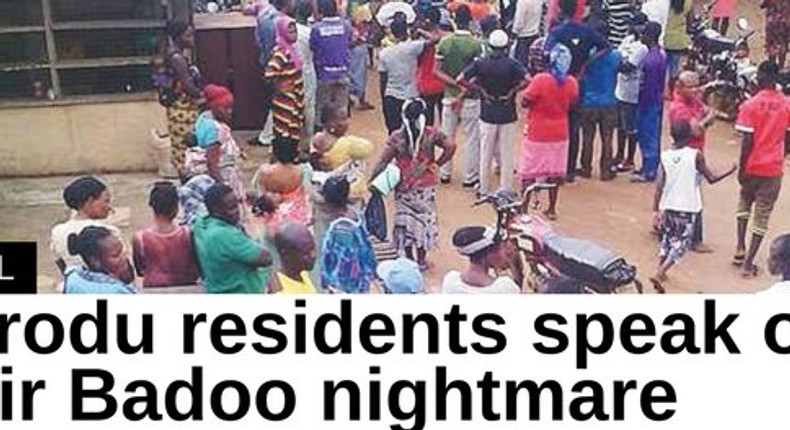 Its no news that residents of Ikorodu in Lagos have been terrorised by the cult known as
Since mid-2016, people in Ikorodu have been living in fear of Badoo- the deadly terror group that kills its victims wipes away families and takes away their body parts.
Things have gotten to a crisis. After turning to the police several times to help them deal with these men of the underworld, residents of Ikorodu have decided to take the law into their hands.
Jungle justice is now the way people in Ikorodu are dealing with Badoo. Unfortunately, this is seen as controversial. Even with the steps taken to curtail the activities of Badoo by the residents, people are still living in fear.
"It's been terrible and scary" said a resident who preferred to remain anonymous. "Once I'm in from work, my doors are shut...I stay out till 8 pm latest. I barely hang out these days because my mind will always be home" he tells Pulse Gist.
Another Ikorodu resident Emmanuel Okocha describes the situation in his neighbourhood as scary. "Everyone is extra cautious and alert" he further says.
Okocha states that there is no curfew in Ikorodu. "We just have our self-imposed restrictions. Everyone that lives here is already back home before 9 pm. And once it's past that time we advise people to sleep wherever they are because it's dangerous to walk at night."
This atmosphere of fear has led to the increase of jungle justice which unfortunately led to the death of a promising comedian.
Not all Ikorodu residents are in support of this style of justice but with the lives lost and the ineffectiveness of the police, something has to be done.
"I'm 100% against it because it is barbaric but can you blame these people? Everywhere is tense and people feel once these boys get to the station, they would be freed" says our anonymous source.
"Let me give you an instance from the Badoo guy that was burnt to death in AGA area of Ikorodu" he says, "while people were beating him and he heard that (probably) the police were on their way, he had this smile on his face knowing it's just a matter of time before he gets freed.
"People have actually lost confidence in the police in cases like this because the people feel these Badoo boys are working for the rich and influential in the society hence the jungle justice. Like I said earlier, I am not in support of jungle justice in any way."
Emmanuel Okocha believes it is necessary to have jungle justice in Ikorodu. "The people are angry" he says, "And I seriously doubt if there have been any innocent persons caught in the cross-fire. I don't support jungle justice system but the first set of suspects that were apprehended were handed over to the police. Rumour has it that he was later released by the order some influential persons here in Ikorodu. You wouldn't blame the irate mob would you?"
Stories like these might make you believe that there is something fishy going on with the way security operatives are handling Badoo. Okocha who has been living in Ikorodu since 2000 adds more conspiracy theories to the mix.
"When it was all started we all thought it was the usual cultist clash until we looked closely and noticed a few anomalies in their operations. The timing, after the coronation of a new Oba and the fact that it was allowed to get this rampant."
The activities of Badoo in the area have led quite a number of people to flee from the area. "A colleague of mine who stays in Ibeshe gave me a first-hand experience when they first went on a rampage in that area. She even had to move away from the area because one attack actually happened a few streets away from hers" reveals our anonymous source.
With the jungle justice approach, it hasn't stopped Badoo. A few days ago, three people were killed following another attack by suspected members of the ritual cult gang, Badoo,
They attacked a church in the Owode-Onirin area of Ikorodu, Lagos State.
According to residents of the area, the cultists struck at the Crystal Church of Christ [C&S], Aladura, located at number 4, Victor Anibaba Street, Owode Weighbridge.
They were said to have attacked the wife of the founder of the church identified as Mrs Ajidara, her two-year-old daughter and another woman who lived in the church with her daughter.
In the end, the visitor, her daughter, and the church founder's daughter were confirmed dead while Mrs Ajidara was rushed to an undisclosed hospital where she is battling for her life.
Even with the Police arresting 100 suspected members of the gang, the reign of terror still continues.
JOIN OUR PULSE COMMUNITY!
Recommended articles
Inside the most expensive school in Ghana where kindergarten costs GHc176K a year
Wizkid and Tems among winners at 2022 BET Awards: See the complete list of winners
Wizkid records historic win at the 2022 BET Awards
Justice Tanko Muhammad resigns as CJN
Top 10 African countries with the most expensive gas prices in 2022
'90+34 mins?' - Nigerians react as controversial NPFL game between Katsina United, Remo end 3-2
5 things you should never do to please a woman
When and where to watch Super Eagles of Nigeria vs São Tomé and Príncipe
Pulse List: 5 celebrity relationships that never made it to the altar