Man who abandoned wife to marry her mother now seeks for divorce
Barely two months after abandoning his wife to get married to her mother, an Indian man has gone back to beg his wife to take him back.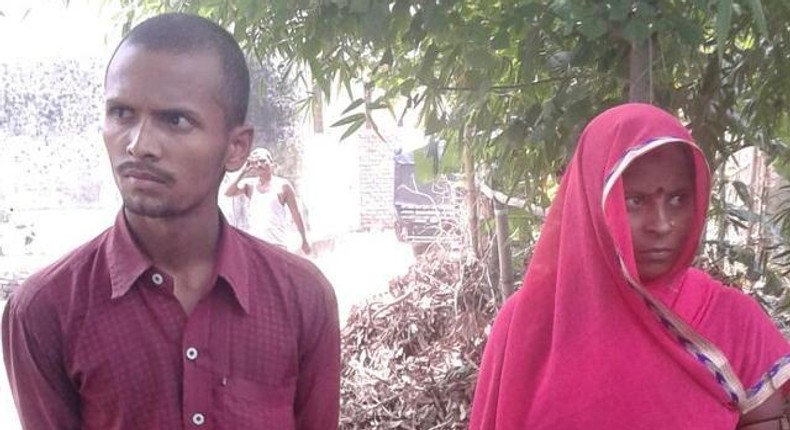 Gulf Times report that the 22-year-old man, Suraj Mahto, made headlines in June when abandoned his wife, Lalita, and married her 42-year-old mother, Asha Devi, but now he is back creeping to his wife and begging for forgiveness.
The affair allegedly began when the mother-in-law came to stay with the couple in the village of Puraini in Bihar,  in the north-eastern part of India, last year, to look after Mahto when he became ill but they later fell in love and decided to get married.
Lalita was reported to have found about the affair and told her mother to leave her young husband alone but Devi refused, claiming they were madly in love.
Despite objections of villagers, the couple eloped and married on June 1 this year in nearby Dhamdaha, but now, Mahto says he has come back to his senses and wants to go back to Lalita.
"I have come to realize my folly. I admit I have committed the mistake, but will never repeat in future.
Now, I no longer treat her as my wife. Rather, I have started paying her regard as a mother. I am on my knees begging Lalita to allow me to come back home for the sake of our son," Mahto told Gulf News.
Devi on her part, is also regretting her actions, saying they have filed a divorce.
"I no longer treat him as my husband, but as a son-in-law. We have already filed a divorce petition in the court and I want to return to my husband as soon as possible."
JOIN OUR PULSE COMMUNITY!
Recommended articles
9 most expensive African countries to rent a one bedroom apartment, based on property price to income ratio
Top 10 African countries with the highest corporate tax rates
Here are the top 10 cities in Africa where the most rich people live
The metaverse could contribute $40 billion to sub-Saharan Africa's economy in its first decade, according to a new report
What to do when someone says they want s*x without commitment
Beer Barn says deployed policemen couldn't save David Imoh from mob
UPDATED: Many feared killed as explosion rocks Kano
Sperm colour: Here's why your semen colour changes and what it means
Actress Dorcas Shola-Fapson and stylist drag each other over AMVCA dress debts