Man loses 18-year-old marriage to wife's friend's pant
The petitioner also alleged that her husband had developed the habit of threatening to kill her with dangerous weapons at the slightest provocation.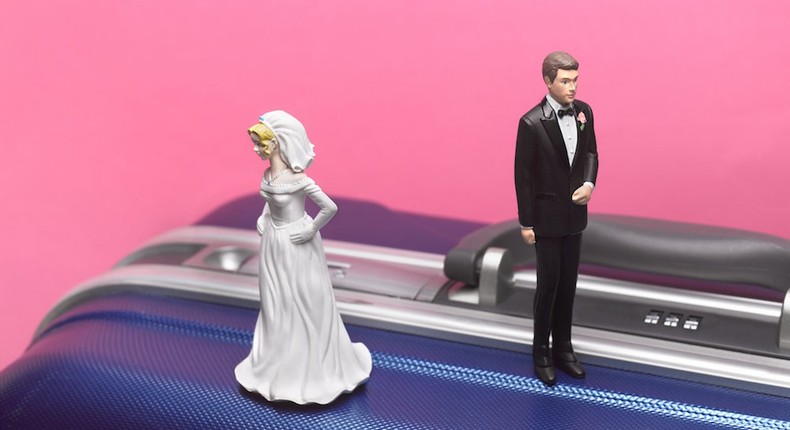 An Igando Customary Court in Lagos State on Friday dissolved an 18-year-old  marriage between Mrs
This dissolution came after several adjournments by the court asking the couple to resolve their differences were unsuccessful.
Earlier, Mrs Taiwo Bolumade, 42, had told the court that she stumbled on a message where her friend was begging her husband, Olajide, 45, to return her pant.
"My husband is dating my married friend and I discovered this when I was with his cell phone.
"Then, a whatsApp message entered with my friend's picture appearing on the screen begging my husband to return her pant.
"I showed my husband the message; he confessed that he was having an illegal affair with her that I should forgive him.
"I also went to my friend's house to confront her for having an illegal affair with my husband.
"She also begged me that I should not let her husband hear about it and promised to end the relationship with my husband," the petitioner told the court.
The petitioner, a mother of four, also alleged that her husband had developed the habit of threatening to kill her with dangerous weapons at the slightest provocation.
"My husband is used to beating me up using dangerous weapons; recently he threatened to kill me.
"Anytime I received a call, my husband would demand for my cell phone to know if it were a man that called; and if I refused to surrender it to him, he would beat the hell out of me.
"He once attacked me on the bed with a cutlass; threatening to machete me but I escaped by the whiskers," she said.
The petitioner said that her husband had refused to eat food prepared by her in the past three years.She, therefore, pleaded with the court to grant her application for divorce, saying she no longer loved her husband.
Olajide, who denied her wife's allegation of infidelity, accused Taiwo of having an extra-marital affair with another man.
"My wife is having an affair with a man; I had caught them severally behind a transformer where they were always meeting around 11p.m.
"She and her lover arrested me on two occasions, accusing me of always calling her lover's cell phone and threatening his life, an allegation I knew nothing about," he said.
Olajide also described his wife as "an ingrate", alleging that he bought two cars for her when his business was booming but when it crashed, she started misbehaving.
"In fact, she even invited the police to arrest me claiming I stole her N100,000 of which I am innocent of," he said.
According to him, Taiwo always goes out at will without his permission and will always return home between 11:p.m. and 11:30 p.m.
The husband said he stopped eating foods prepared by his wife because she was fond of abusing him before serving him.Olajide, however, urged the court to grant his wife's application for divorce, saying he was also fed up with the 18-year-old marriage.
The president of the court, Mr Adegboyega Omilola, in his judgment said that it appeared that the couple was fed up with the marriage as all efforts to reconcile them had failed.
"Since both parties had consented to the dissolution of their marriage, this court has no choice than to dissolve the marriage.
"This court, therefore, pronounces the marriage between Mrs Taiwo Bolumade and Mr Olajide Bolumade dissolved today.
"Both parties are no longer husband and wife; they are free to go their separate ways without any hindrances and molestations," Omilola ruled.
JOIN OUR PULSE COMMUNITY!
Recommended articles
Top 10 richest mineral-producing countries in Africa
Top 10 African countries with internet freedom
5 African countries which have received loans from the IMF in 2023
5 African countries where snow falls
Tanzania says its Sh1.4 trillion ($600 million) loss is no cause for alarm, see why
Call your girls to order  —  Abike Dabiri tells Arise TV owner
Veteran Nollywood actor Adewale Adeyemo is dead
Africa's richest woman Isabel Dos Santos finds herself deep in another financial scandal
'There was a point...I was seeing the stage upside down' - Hilda Baci