Eucharia Anunobi has bagged a post-graduate diploma in pastoral and leadership from the Redeemers International Leadership Academy.
The veteran actress made this known on her Instagram page on Thursday, August 9, 2018. In a series of photos, the actress couldn't hide her joy as she thanked God for seeing her through her studies.
"Stagnant waters stink. Evolve and upgrade yourself ! Get back to school !! Thanking Yahweh (GOD) for successfully completing and graduating from REDEEMERS INTERNATIONAL LEADERSHIP ACADEMY ( RILA ) with a POST GRADUATE DIPLOMA IN PASTORAL AND LEADERSHIP COURSE, AUGUST / 8 / 2018.
"Hmmm BACHELOR OF ARTS: ENGLISH LANGUAGE - the UNIVERSITY OF NIGERIA NSUKKA, MASTERS IN SOCIAL WORKS - LAGOS STATE UNIVERSITY. Moving onto greater glory steadily. Please join me and celebrate the king of glory, JESUS CHRIST, who made it possible," she captioned one of the photos.
Congratulations to Eucharia Anunobi for achieving this despite having to deal with the demise of her son. It would be recalled that earlier in the year, the actress graduated from another pastoral school and was grateful for being able to finish despite her son's death.
ALSO READ:10 celebrities who made waves in the 90s
Eucharia Anunobi says she finished school despite son's death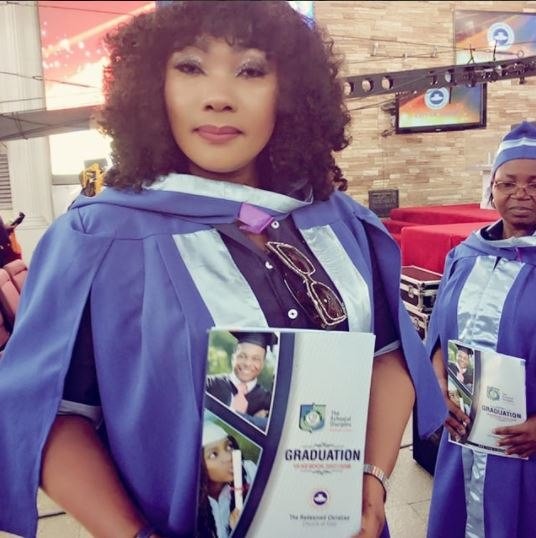 In February 2018, Eucharia Anunobi revealed that she was able to finish school despite son's death. The veteran actress took to her Instagram page on Tuesday, February 27, 2018, where she shared a number of photos for her fans as she graduates from RCCG's School of Disciples. In one of her photos, she made reference to her ability to finish her exams despite being in the process of burying her son.
"If you keep looking at the mountain, it becomes overwhelming, go to the base and start climbing, don't look down and don't look up, just keep at it, before you know it, you are at the top. If I could finish my exams while burying my son, what is stopping you from completing your studies. I prophesy as commanded may all satanic agenda put in place to stagnate your destiny be truncated now in JESUS name," she wrote.
The actress lost her 15-year-old son to sickle cell anaemia. Raymond, who she had with her ex-husband, Charles Ekwu, in 2002, has been living with sickle cell anaemia from birth.