Kiss Daniel has a lengthy triumph in "New Era" album
Kiss Daniel feels like the real deal, combining substance with the pop-adored 'fineboyism' to make music which is immersive, content-filled, and worthy of a "New Era".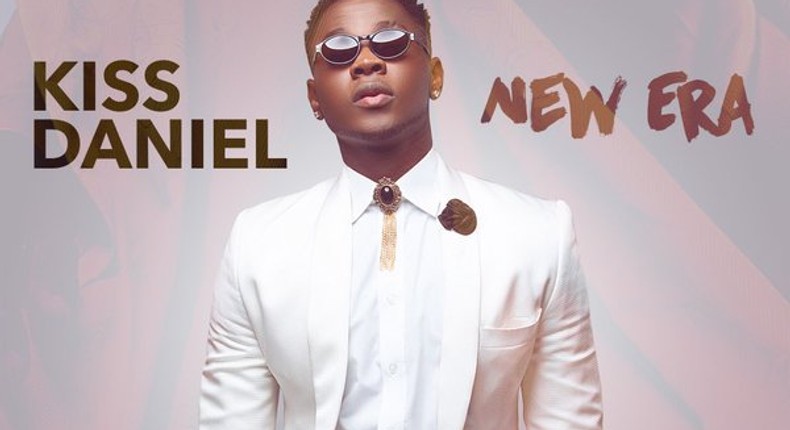 Producers – Beatburx, Masterkraft, Young Jonn, Jay Sleek, DJ Coublon, Kimz Beatz
Record Label – G-Worldwide Entertainment (2016)
It is gladdening to see a fledgling act in Nigeria break free from the shackles of underground music and into the light of mainstream acceptance. For this to happen, the artiste needs three potent elements to make that push to commercial freedom – appealing content, intense marketing, and a shrewd understanding to make a star out of yourself.
Having a hit song still remains the surefire way, but the consistency to stay fresh and renewed keeps you in the limelight. That's why the history of Nigerian music, and life itself is laden with many who flattered to deceive, flashed once in the pan, never repeated their trick, and quickly returned to dire obscurity.
Kiss Daniel had his big flash in 2015, ushering in a Christmas-beaten Nigeria into the dreaded year of the General Elections with the melody and drums of 'Woju'. That trick has since found a way to be consistent, and it has led him to this point where he is recognized as a Nigerian star. Just over a year since that big break, he has kept his hits rolling off a conveyor belt, looking pretty, and begging to be appreciated. Those hits have spawned an ambitious album, where the only feature on it was from the family – G-Worldwide Entertainment – with labelmate Sugarboy having the three nods on the project, together with production and writing credits.
Kiss Daniel brings on the magic from the start, announcing his ascendancy in Nigerian music with the thumping 'New King', before going on a long, heady, love-filled journey to win a girl's heart. The singer sticks to the subject which has been largely responsible for his success. The track album feels like an emotional meandering through all the stages of love and romance, peppered with gratitude to God for success.
Love shines through on the tropical 'Jombo', the ubiquitous 'Mama', the haunting 'Gobe' and many others. There's happiness on 'Good time' and 'Laye', vacant spaces on 'Give into', and an Akon-esque burlesque feel on 'Kudi'. The best work on this album resides on 'Are you alright', an immersive, percussion heavy candy, as Kiss Daniel passionately deals with the relationship between money and love, while 'Kiss me' gives up a longing that is paradoxically clingy and manly in execution. The singer's vulnerabilities shine forth, as effortless songwriting make him shine.
Versatility is also one of Kiss Daniel's strengths. There's a rattling dancehall patois on 'Sin City', while the clangy gong on 'Duro' combines with Kiss Daniel to bring out a delivery reminiscent of 9ice in his prime. There's also the much crowded reflective and thankful tracks about the struggle and success. 'All God' is perhaps the most popping thanksgiving song that has ever been laid in a studio. 'Alone' employs cohesive live elements, while another day is morbidly satisfying.
Even though a majority of songs do not fall flat on their faces, the lack of external influence is missed. Sugarboy appears on three of the weakest tracks, with the choice of songs unflattering to the talents of Daniel's trusted label mate. A selective infusion of Hip-hop and dancehall acts would have done wonders for 'New King' and 'Sin City'. Kisss Daniel is an insanely gifted act who possesses a wide range of delivery styles, and he utilizes this to stellar effects on the album, with each song presenting a new vocal facet of the man. A 20-track album, this delivery works wonders to bypass the law of diminishing returns, and where it fails, it is not too evident.
Where Kiss Daniel scores his home run is in the songwriting of the album. "New Era" wins heavily in that department, with very few holes in the lyrical composition of the LP. Production was limited to a very select crop of engineers who brought their most diverse sounds on it.
Kiss Daniel's first effort is a model for today's acts. This is the era where people can boast of the top awards in music with no album. Where instant gratification and internet assisted shortcuts to fame have neutralized the gatekeepers of the Nigeria music industry. This is the age where technology rules, and old fashioned sweat is frowned upon. Kiss Daniel seeks to marry both worlds, releasing a solid body of work, barely a year after fortune smiled on him and his hard work payed. Perhaps that is why he feels like the real deal, combining substance with the pop-adored 'fineboyism' to make music which is immersive, content-filled, and worthy of a "New Era".
JOIN OUR PULSE COMMUNITY!
Recommended articles
ContentGram Studios positions for major productions in Africa
Viola Davis says a director once called her by his maid's name
Competing with Hollywood will only stress you - Niyi Akinmolayan
Rihanna welcomes baby boy with partner A$AP Rocky
'TOOT' official trailer debuts ahead of release
BBNaija's Mercy Eke says she doesn't believe there are faithful men out there
The television streaming war: 5 reasons why Netflix is losing
Will Margot Robbie be in the 'Pirates of the Caribbean' franchise?
BBNaija 'Shine Ya Eye' season reunion to premiere this June