Nigerian-American actress on "Insecure" should be your new favourite
From being on "Insecure," a virgin at 32 and dodging medicine for entertainment, here's everything you need to know about Yvonne Orji.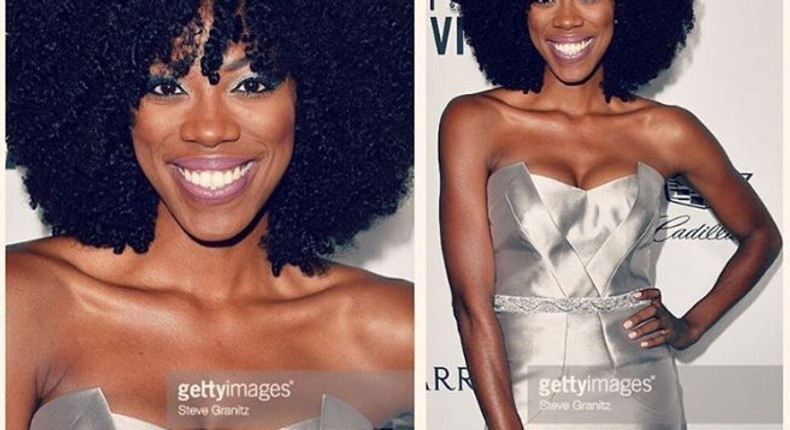 There is a funny and relatable HBO show titled
Aside from its entertaining story and plot, Nigerian-American actress Yvonne Orji is one major reason to tune in. The stand-up comedian plays a successful, funny, romantically challenged, lawyer, sexually free Molly Carter, who is also Issa's best friend on the show.
Before embarking in entertainment, Yvonne Orji who has a bachelor's degree in sociology and a master's degree in public health from George Washington University was a public health professional. She worked in Post-Conflict Liberia where she did HIV prevention work.
Yvonne Orji moved to New York in 2009 to pursue comedy. A decision her Nigerian parents were not happy about.  "I'm Nigerian. We do engineering. We do medicine," she revealed.
Before her 2009 move, the actress started doing comedy in 2006 after her brother asked  her to enter the Miss Nigeria in America pageant as a favor to a friend. When the organizers reached out saying that they also needed her talent, God asked her to do comedy.
" I found myself praying, like, "God, I don't have a talent. I just bought a dress. I thought this was supposed to be easy. Like, what? Help me." And I heard the voice say, "Do comedy." So I wrote a five-minute set about what was funny growing up Nigerian in America," Yvonne said in an interview with Ringer.
In 2011, she got offered an internship in the writer's room for the TV One series "Love That Girl." She also got to portray the character Njideka in one episode of the show.
Before "Insecure," the actress wrote a pilot for a web series "First Gen," a sitcom about Joanna - a first generation Nigerian-American who trades in a stable career in medicine for stand-up comedy, and the adventures that ensue when her traditional immigrant parents discover her plans.
The trailer which was released in 2015 went viral and not only earned her an audition for "Insecure," but also the attention of David Oyelowo as an executive producer of the web series.
Orji who migrated to Maryland at the age of six is yet to lose her Nigerian accent. From mimicking her parents' accents to her proud use of "Naija no dey carry last," the actress continuously showed off her Nigerian heritage during her Breakfast Club interview.
At the age of 32, Yvonne Orji is still a virgin. She had thought she would lose her virginity while attending George Washington University at the age of 18, but then, she got saved. She also isn't one to shy away from discussing virginity at 32. "It comes out, I don't hide it. The same way people know they've had a one-night stand, you can say that so I can this," she revealed during an interview.
There are other interesting things to know about the Nigerian-born entertainer including the fact that she was bullied from 3rd grade to 8th grade. Her favourite Twitter account to follow is Sarcasm, because they post things she has in mind, but could never say. One of her favourite movies to watch is "Love and Basketball." Her first celebrity crush is the handsome Michael Ealy who is popular for his role in movies including "The Perfect Guy," "Think Like A Man," "Secret and Lies" among others.
She fought hard for her dreams, chose to follow her acting passion as against being a doctor, and she delivers an outstanding performance as Molly in "Insecure."
Her recent interview which can be watched below proves that Yvonne Orji is as pleasant off-screen as she is on-screen, and that is enough reason for her to be your favourite Nigerian-American screen bae.
JOIN OUR PULSE COMMUNITY!
Recommended articles
Falz shares snippet of unreleased song featuring The Cavemen
Visa on Arrival Season 2 has arrived
The Sarz Academy partners Youtube Music for the Future Insiders Program
Ninety announced as Apple Music Up Next Artist in Nigeria
Chocolate City CEO, Abuchi Peter Ugwu, discusses one year of music business leadership
Sarz & Lojay confirm collaboration with Chris Brown, share 'Monalisa' remix video teaser
Victony's 'Outlaw' EP is enjoyable but falls short of mind-blowing, and that's okay [Pulse Album Review]
Josh2Funny and wife welcome baby boy
Ini Dima-Okojie on bodying broken characters and finding balance eight years later [Pulse Interview]