Nollywood horror movies actually gave us home training, here's how
Only the 80s kid and early 90s kids will understand this.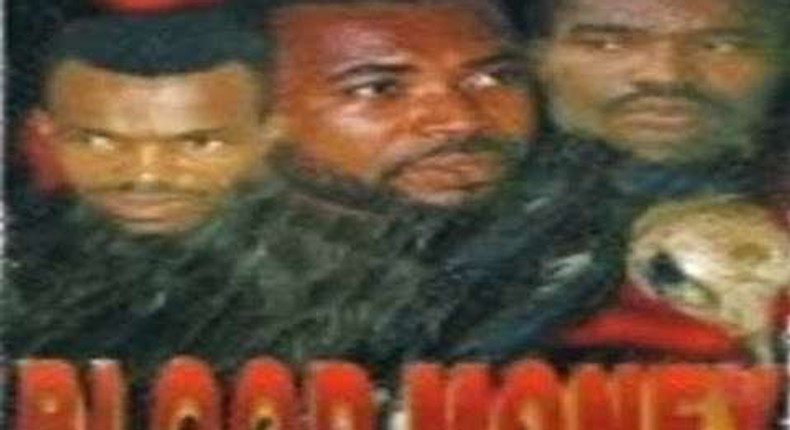 As a child in the 90s and early 2000s, finding American movies wasn't as easy as it is now.
First of all, you were probably not allowed to put on the TV in the afternoon, and even when you did, what you got was this:
So most of the time, you have to sit down and watch TV with your parents, which will most likely have them watching Nollywood movies. Your parents will think that they are the ones that gave you home training, but they'll never know the true home training came from Mount Zion and the Gang. Here's how:
If you pick rubber band on the floor, you'll turn to Yam:
Everybody knows that story of that boy who picked rubber band on the floor and turned to yam. Then while the ritualist was trying to run away with the yam, someone caught him. When they cut the yam, blood started rushing out.
And when the ritualist transformed the yam back to the rubber picking boy, they discovered that the part of the yam that was cut was the ear.
Till date, if I see anybody with one ear, I want to ask him,
When you've watched movies like "Blood Money" and "Rituals", they don't need to tell you before you have sense. What will even give you the guts to talk to strangers or allow them rub your head?
Don't beg for anything in school, or else…
Remember that scene in "End Of the Wicked", where one kid was on the playground eating puff-puff and other kids just swarm around him begging for some. Everybody eats puff puff and they are all smiling.
All the other kids are sleeping, but our Santa Puff-puff is at the coven doing meeting and he starts shouting PUUFFFFFFF PUFFFFFFFFF, and the spirits of all the kids that ate the puff puff just start rising, and going to meeting, and just like that, they've become members. You're watching this with your mum and she just looks at you like,
Being scared of the dark is a standard Nigerian kid requirement.
Really, who wouldn't be scared of the dark after watching Mount Zion's "Ishawuru" and hearing that thing shout I AM ATANGA.
Fun fact: it's "I am Atanga", not "Ayamatanga". Just the way that nursery rhyme goes "Standard living, standard living", and not "Sandalili Sandalili". I know I know. It hurts. Your childhood was a lie. Moving on.
If you do anything bad, YOU WILL DIE.
Aha. Remember that scene in "Witches" when the coven of witches were thirsty, and it's not like there was water scarcity or anything. They just decided "all my ladies, all my ladies, let us drink blood".
So as usual, one small screen appears on one surface (yes yes, projector technology). And you just see the luxurious bus with passengers inside it. And instead of them to be praying because you know, children of God and all that. They are either sleeping and the rest were kissing, and pressing breast and all that.
And the witches were just dancing like,
Next thing, the bus is already doing backflip and all the passengers have died. No one still knows how the blood travels from the accident scene to their wine glasses. Or is it blood glasses? Whatever.
If you eat inside Buka, you will turn to Imbecile
"People people make una come o
Iya Basira e done jazz me o
Everybody hellep save me o
I no dey sabi chop my mother and my girlfriend food."
Styl Plus sang this song because of the Wash-Put movement. The belief that buka owners, mostly women, were washing vaginal juices into the food they were using cook for people, because you know, vagina just makes people go crazy.
There's an uncountable number of movies that talk about this one (but none that actually talk about how good their food is). There are definitely more than one movie referencing this by the Stephen King of Nigerian Horror, Ajileye.
To be honest, the idea of Nigerian horror scared home training into us.
So when you try to misbehave, you'll just hear, "if you don't behave yourself, I'll call Ojuju for you."
We've outgrown these fears at least. Now, we've found new ones; like failure, or rejection, Whatsapp broadcasts, or your battery dying when your phone battery is 5% and there's no light.
JOIN OUR PULSE COMMUNITY!
Recommended articles
Kpee signs a new record deal with Cloud Nine Records
Check out photos and videos from Mercy Chinwo's wedding ceremony
'Afrobeats has displaced Dancehall Reggae in global fame' – Asha Gangali
Roman DC give insight of his upcoming release
Meet Testimony Jaga, the unconventional Nigerian gospel music popstar [Pulse Interview]
Future Sounds Vol.20 featuring Boybreed, Duncan Daniels, Ginius, June, B Mello and more
BBNaija 7: Beauty's fans weep as Phyna replaces her under the duvet with Groovy
American actress Anne Heche dies following car crash
Banky W, Adesua Etomi, others attend Mercy Chinwo's traditional wedding ceremony