"The Wedding Party" assembles needed features for a laugh-out-loud comedy
Ever witnessed a Nigerian wedding? Kemi Adetiba's "The Wedding Party" should bring a smile and satisfaction to anyone who has planned or attended a Nigerian wedding.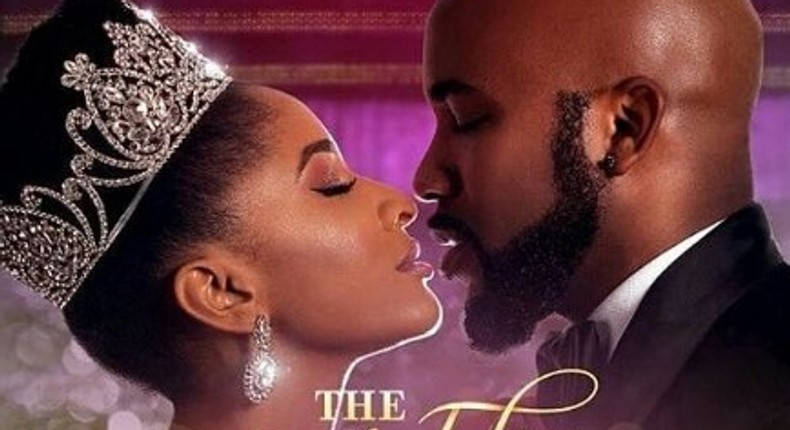 "The Wedding Party" doesnt try to be deep. It stays true to its genre.
A collaboration between EbonyLife Films, FilmOne Distribution, Koga Studios and Inkblot Productions, "The Wedding Party" premiered to the press on Thursday, November 10, 2016, at Filmhouse IMAX Cinemas.
Directed by Kemi Adetiba, the romantic comedy stars Adesua Etomi as Dunni Coker, Banky W as Dozie, Alibaba and Sola Sobowale as Dunni's parents, and Ireti Doyleand Richard Mofe-Damijo as Dozie's parents. It also stars Zainab Balogun, AY Makun, Ikechukwu, Beverly Naya, Emma OhMaGod, Lepacious Bose amongst others.
The problem with most star-studded Nollywood movies is that in a bid to make everyone seem important and relevant, the movie becomes draggy and more like a pilot episode for a TV series.  The resolution becomes rushed, and leaves you wishing the director had chosen to make a star-studded TV series rather than a boring star-studded movie.
However, "The Wedding Party" is a star-studded romantic comedy that gives every actor and character the room to be important and relevant to the story without ruining it.
It is distinctly a comedy movie that sets out to entertain. It doesn't try to be an action, thriller, crime, adventure film, a documentary or all at once. It doesn't set out to be deep and have you feeling 'intense.' It understands its chosen genre and it sticks to it. "The Wedding Party" is a well-made romantic-comedy which is brought to life by talented actors, to entertain and bring laughter to a viewer's day.
Set in Lagos, Nigeria, the movie tells the story of Dunni Coker and Dozie Onwuka's wedding. Dunni Coker, a 24 -year-old art gallery owner and only daughter of her parents is about to marry the love of her life, IT entrepreneur Dozie. The couple took a vow of chastity and is looking forward to their first night together as a married couple. The awaited Wedding day finally arrives and it comes with lots of unexpected drama.
The whole buzz-worthy movie happens in a day. It doesn't just kick off with a party; It is a movie that follows the events of an entire wedding day. Most of these events lead to the dramatic wedding party. There is an ex who is not over the groom, a cheating husband, an underappreciated son, a First class graduate turned robber, a mother-in-law who doesn't like her son's choice of wife, the co-mothers-in-law who can't stand each other and are in a competition to outshine each other. Despite how it seems like there is more than a lot going on in the film, Kemi Adetiba still successfully creates a clear and understandable romantic comedy.
Kemi Adetiba's"The Wedding Party" captures a typical Nigerian wedding (high-priced or inexpensive) and all the drama that could occur pre and post a wedding party. A typical Nigerian wedding party is fun, dramatic, tedious, but entertaining. A typical Nigerian wedding has that relative who turns up for the food or souvenirs, friends who turn up for the 'gram' and an envious ex who is just there to witness the inadequacies. The romantic comedy captures the energy, music, colourfulness, culture and fashion that makes a wedding party fun to attend.
Class and tribal differences add to the hilarious drama in this Kemi Adetiba's romantic comedy, as the Onwukas are Igbo while the Cokers are Yoruba. From the spoken words, gestures and facial expressions, the relationship and competition between Mrs Onwuka and Mrs Coker play a huge part in ensuring that "The Wedding Party" remains true to its genre.  They represent the reality of tribalism and classism in Nigeria which is not always as funny as theirs.
"The Wedding Party" benefits from the efforts of its apt cast. It is buoyed up by performances from both veterans and the younger actors. Sola Sobowale is most certainly the life of the movie and is at the top of her game playing the viewers favourite Tinuade Coker. Nobody else could bring this much life to this character as she did. A typical caring and protective Nigerian or particularly Yoruba mother, Sobowale nails the act.
Dunni and Dozie's onscreen chemistry is palpable. But then, isn't Adesua Etomi our go-to actress when in need of a well-made Nollywood romance movie? She doesn't shy away from bringing to life a Dunni who is truly in love and can't get enough of the love of her life.
It is refreshing to see Banky as Dozie. His interpretation of the character is natural. He doesn't try too hard to impress as a first-timer in a movie. His character isn't exaggerated. It is simple, likeable and relatable to a reasonable extent.
The cast share genuine chemistry tinged with humour, silly jokes, gestures, and indigenous terms such as gbegiri. If "The Wedding Party" were to be a clumsily made film, it would still coast on the appeal of its likeable cast and characters. From RMD, Ali Baba, Sobowale and Doyle to Banky W, Etomi, Frank Donga, Emma Ohmygod, Somkele, Saka, AY Makun, Zainab Balogun, the producers and director of the movie chose the right cast.
The relationship between a movie and songs are inseparable, and with the "The Wedding Party," the right Nigerian songs are paired to encapsulate the mood of the story, adding life to the movie. For a movie that has screened at the Toronto International Film Festival and Joburg Film Festival, the appropriate use of music in "The Wedding Party" further takes the Nigerian music to a foreign audience.
The direction is excellent. Adetiba doesn't let her picture dwadle. The movie kicks off exciting the audience, and moves at a pace that makes it interesting to watch. "The Wedding Party" has more hits than misfires. It offers enough laughs to overshadow its flaws and should bring a smile to anyone who has planned, attended or had a Nigerian wedding.
A movie has been made about a Nigerian wedding. Everything happens in a day. It can boast of great performances led by Sola Sobowale. and it is a good movie worth seeing in the cinemas.
For her first feature-length film, Kemi Adetiba has created a good comedy movie for the festive season which will without a doubt, be a box office success.
"The Wedding Party" opens in cinemas nationwide on December 16, 2016.
JOIN OUR PULSE COMMUNITY!
Recommended articles
Nollywood veteran Clem Ohameze gets N1.5M gift from pastor who sponsored his surgery
Banky W and Adesua Etomi celebrate their son as he turns 1
BBNaija's Omashola and fiancee welcome baby boy
Davido & other stars thrill customers at Lush Club
Mercy Aigbe's estranged husband Lanre Gentry confirms paternity of their son
5 Nigerian TikTok influencers you may start paying to watch
Sammie Okposo impregnates American based woman, apologises to family over infidelity
Mercy Aigbe shares video from her 'traditional wedding' to Kazim Adeoti
Bovi's wife recounts how ectopic pregnancy ruptured in one of her tubes