AY Makun's "10 Days in Sun City" offers nothing new
"10 Days in Sun City" is a rehash of the jokes and treats from its predecessor, "A Trip to Jamaica."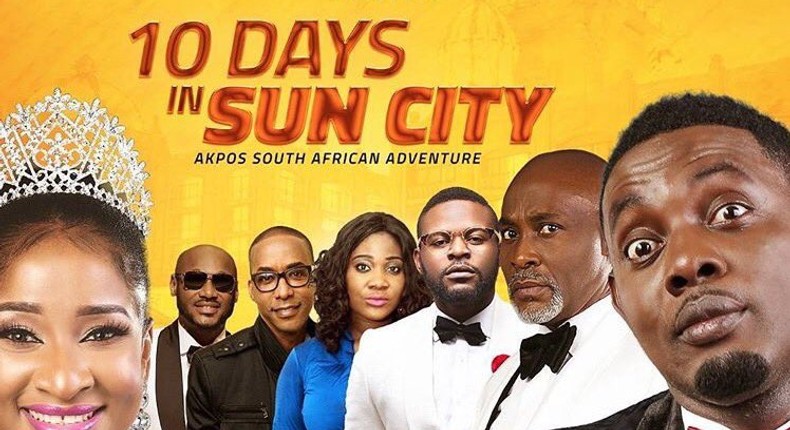 Following the box office success of
"10 Days in Sun City" is a comedy-drama that sees Akpos on another 'adventure', this time, to South Africa, with his girlfriend Bianca.
Bianca is a beauty queen who after winning the Miss Nigeria Beauty pageant, becomes the face of multi-national cosmetics conglomerate 'OTAWI' which is owned by a wealthy man, Otunba Ayoola Williams.
As the face of the brand, Brenda is sent to South Africa with her 'manager,' Akpors. Otunba, who has other financial and personal plans for Bianca, embarks on the same trip.
Otunba's move to make Brenda his wife kicks off the action and drama in "10 Days in Sun City."
Just like Makun's other movies, Akpors visits a luxurious destination, he has a girlfriend but can't help starring lustfully at other women, there are vulgar slangs that are supposed to be funny, Akpors is held hostage, and at the end, bullets and bottles resolve the 'conflict.'
However, there something different about the movie and it's the fact that it wasn't written by Makun who scripted the other two movies in the Akpor's adventure series; "30 Days in Atlanta" and "A Trip to Jamaica."
The touch of the new writer Kehinde Ogunola is obvious in the movie, which unlike its predecessors, doesn't have an outrightly horrible script, acting and directing.
Nevertheless, "10 Days in Sun City" still offers nothing new except for less pointless and awful entertainment. It still has that clichéd modus operandi that comes with AY's previous movies and some Live Shows.
Aside from a few cleverly placed jokes, the movie relies mostly on nostalgia and recycled jokes to elicit laughter from viewers.
Etomi's performance as Bianca simply pales in comparison to her roles in past movies. She looks mostly bored as there's little for her to do with the character.
Makun as Akpors offers nothing we haven't seen in his past performances. It's the same slangs and facial expressions.
Richard Mofe-Damijo is charismatic as the villain, Falz funny as Seyi and Mercy Johnson exaggerated as Monique.
The other cast members do their best to bring their characters to life.
For some, familiar songs like Runtown's 'Mad Over You" and Dino Melaye's "Aje Kun Iya,'  which we have all probably listened to a hundred times could be the only exciting thing about the comedy movie.
The predictable climax and denouement won't be a surprise if you have religiously followed all of Makun's movies and have come to understand his style.
For all the film's pleasant visuals, action sequences and beautiful cast, you will leave the cinema wishing it offered more. Especially, more laughter.
"10 Days in Sun City" is directed by Adze Utah, written by Kehinde Ogunola and produced by Darlingntin Aduba.
It's currently showing in cinemas.
JOIN OUR PULSE COMMUNITY!
Recommended articles
Future Sounds Vol.13 featuring Show Some Moe, Musta4a, Bils, Bigfootinyourface and more
Kida Kudz and Mr. Dutch team up for thrilling EP 'World Citizens'
CKay's 'Love Nwantiti' breaks record in France
"I was a one time mechanic", says Khaid as he narrates how Sydney Talker discovered him
Nigerian gospel sensation Ada Ehi drops new single
ADC officially unveils Tonto Dikeh as its Rivers Deputy Guber candidate
Former beauty queen Precious Chikwendu and her estranged hubby Femi Fani-Kayode reunite after 2 years of rift
Bimbo Ademoye joins cast of 'Papa Benji' season 3
Real Housewives of Lagos Reunion to premiere July