Emeka Ike's recent interview questions his authority as AGN President
Emeka Ike is just one of those "we paved the way for you" 'veteran' actors,' who have refused to realize that Nollywood is evolving, and there are younger people involved.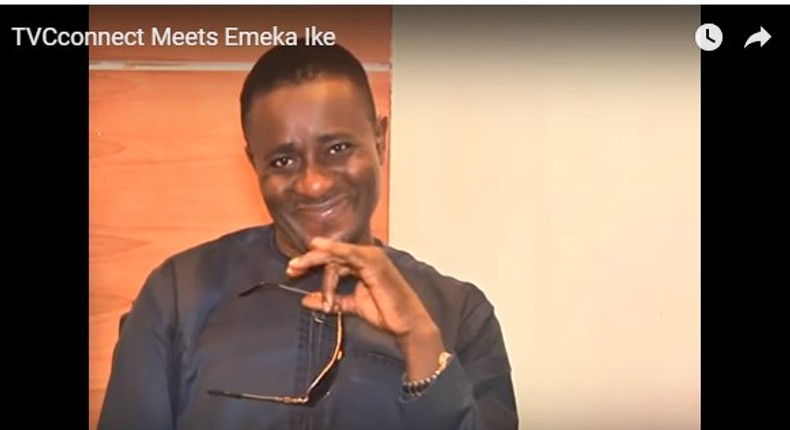 An interview I consider offensive, petty and enough to question his authority as the president of the AGN body. The interview made the actor come off as bitter, proud and hateful.
Let us talk about all the supposed points he made;
1. Segun Arinze has no Bsc and is unfit to be in power in AGN?
Emeka Ike went on for over three minutes talking about how unqualified Segun Arinze is to occupy a position because he is uneducated. Didn't  Arinze study Dramatic Arts in Obafemi Awolowo University? Does that not make him qualified enough?
Secondly, Ike lost me at "he (Segun Arinze) doesn't even want those people that hear him speak good English to know that he doesn't even have an OND."  What is the connection between being a leader, speaking good English and people finding out about your education qualification? Listening to him speak, his dislike or probably 'hatred' for Arinze was obvious.
2. "AGN is not running a prostitution cartel"
This has to be the most unacceptable part of the interview. Ibinabo Fiberesima is a beautiful and feminine woman, and there is absolutely nothing wrong with that. It is totally offensive to portray her meetings with former President Goodluck Jonathan as promiscuous or call her 'dumb' because she carried her 'beautiful face' to meet the president. I don't know how much of a good leader Ibinabo was, or how much growth she brought to the industry, but I think it is wrong to portray her in the light Emeka did.
Emeka Ike has been in power for over a month, and the only thing we have heard him talk about is the supposed non-existing feud or crisis in Nollywood.
What are his plans to resurrect the 'dead' body? How does he plan to make Nollywood grow? He has not stated his agenda.
He claims Ibinabo took a group of powerful people in the industry to meet the President. Why is he so angered over this? He is yet to reveal his own agenda for funding the industry, an issue which everyone claims is holding back productivity of the entertainment sector.
3. Kunle Afolayan made a fantastic movie because he was given 200 million Naira?
"If you give a dunce that money, he can get the best producer. So it's not a fantastic thing, you are not making me feel oppressed," he said. Then why does he sound so oppressed?
I believe funding is a major problem in Nollywood, but creativity has a huge part to play in making a great movie, so I refuse to agree that a dunce can make a great movie with N200M.
Kunle Afolayan is a talented filmmaker, and only an oppressed filmmaker would make the above statement made by Emeka Ike. Afolayan has four hit movies to his name - "The CEO," "The Figurine," "Phone Swap," and "October 1."
Kunle Afolayan has made movies that a dunce can't make with N500M.
Emeka sounds so pained talking about multinationals empowering a few people to oppress everybody. Ike has been absent from our screens, outside of the AGN drama, he hasn't really been in the news. His absence from the scene could perhaps been why he hasn't be recognized by the so-called global companies.
4. The New Nollywood drama?
Emeka Ike is just one of those "we paved the way for you" 'veteran' actors,' who have refused to realize that Nollywood is evolving, and there are younger people involved. He sounds so bitter talking about the 'New Nollywood.'
What is wrong with 'someone conniving with multinationals' to create a new better Nollywood? After all, collaboration brings about growth and innovation. How exactly is Emeka Ike supposed to be a great leader when he has refused to embrace the new industry and is insisting on being an 'Egbon.' Reminds me of the MOPICON.
What is 'New' and 'Old' Nollywood? What is the meaning of 'Old and young' generation? Emeka Ike obviously wants to be remembered as a hero in Nollywood. He went further to proclaim himself a role model worth emulating. He seems to have a problem with the New Nollywood actors and their accents while he speaks with an accent that is a fusion of a Nigerian accent and an unnatural hint of an American accent which seems to pop-up as he raises his points in the recent TVC interview.
5. He has a problem with Africa Magic?
"Nollywood now belongs to  Africa Magic," he said. Africa Magic has partnered with some filmmakers to make great movies. Africa Magic has helped grow Nollywood. How can an AGN president be against everything positive about Nollywood?
He claims he isn't a part of the MOPICON bill review committee because they don't want him to ask about 'the money.' I think he isn't part of the committee because he is not a recognized authority, and everyday he keeps proving that.
He couldn't stop talking about 'the money.' He couldn't stop talking about physical structures and buildings. For 37 minutes, Emeka Ike failed to speak on how to grow Nollywood.
For 37 minutes, the actor failed to prove that he is what Nollywood needs. With this interview, he branded himself as a petty and old-fashioned leader, who is not willing to embrace change, growth and one Nollywood, and that is not what the Nigerian movie industry needs.
Get our Top Stories delivered to your inbox
Recommended articles
BBNaija 7: Chichi and Adekunle clash over Deji's relocation [Video]
BBNaija 7: Level two housemates protest as Biggie asks Groovy to move houses
BBNaija 7: Live updates of 'Level Up' season (Week 4)
Music discovery platform Shazam turns 20
Movie recommendation of the week: Niyi Akinmolayan's The Arbitration
Bimbo Ademoye debuts YouTube comedy series 'Iya Barakat Teropi Secxxion'
BNXN reveals tracklist for next album 'Bad Since 97'
Showmax debuts trailer for fantasy series 'Blood Psalms' in collaboration with Canal+
Spotify announces Nigerian artist, Magixx as Fresh Finds artist for August