[Spoiler] dies epic death in 'Battle of Bastards"
The epic "Game of Thrones" episode featured a battle between Jon Snow and Ramsay Bolton.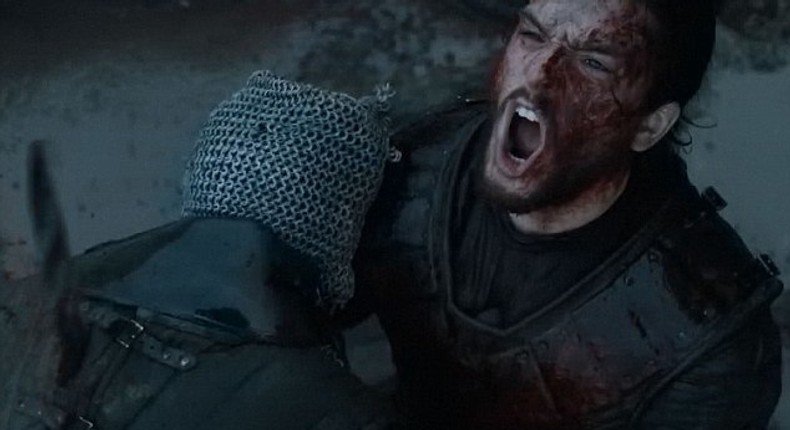 The ninth episode of "Game of Thrones" season six featured the awaited epic fight between
Described as one of the most intense and satisfying episode of the season, "Battle of the Bastards" saw the former Lord Commander of the Night's Watch [Jon Snow] fight to reclaim Winterfell, alongside his sister, Sansa Stark.
Snow and Sansa's army went to battle with Bolton - a battle that led to the death of their brother Rickson Stark after Bolton show an arrow through his chest.
However, the episode saw the end of this season and currently TV biggest villain, Ramsay Bolton.
In "Battle of the Bastards" Snow finally faced off with the villain in battle. After Bolton was beaten, pounded and grounded by Snow, he was left for Sansa to get her revenge.
Sansa ended his life by releasing his own starved hounds on him. His dogs ate him up, starting with his face.
On "Game of Thrones," Bolton once hunted an innocent girl named Tansy. He killed her by releasing his hunting dogs to rip her to pieces.
In season six, the villain killed Walda Frey and his newborn half-brother by sending out his dogs to feed on them.
HBO has confirmed that the season six finale of the series will be the biggest episode ever in history of show.
With a running time of 69 minutes, the upcoming episode is titled "The Winds of the Winter," and will air on Sunday, June 26, 2016.
The episodes are directed by Miguel Sapochnik, who directed the
Get our Top Stories delivered to your inbox
Recommended articles
BBNaija 7: Chichi and Adekunle clash over Deji's relocation [Video]
BBNaija 7: Level two housemates protest as Biggie asks Groovy to move houses
BBNaija 7: Live updates of 'Level Up' season (Week 4)
Music discovery platform Shazam turns 20
Movie recommendation of the week: Niyi Akinmolayan's The Arbitration
Bimbo Ademoye debuts YouTube comedy series 'Iya Barakat Teropi Secxxion'
BNXN reveals tracklist for next album 'Bad Since 97'
Showmax debuts trailer for fantasy series 'Blood Psalms' in collaboration with Canal+
Spotify announces Nigerian artist, Magixx as Fresh Finds artist for August