Mide Martins 'doggie-style' fails to save her marriage
Mide Martins marriage is an example of why men will always be men no matter what women do.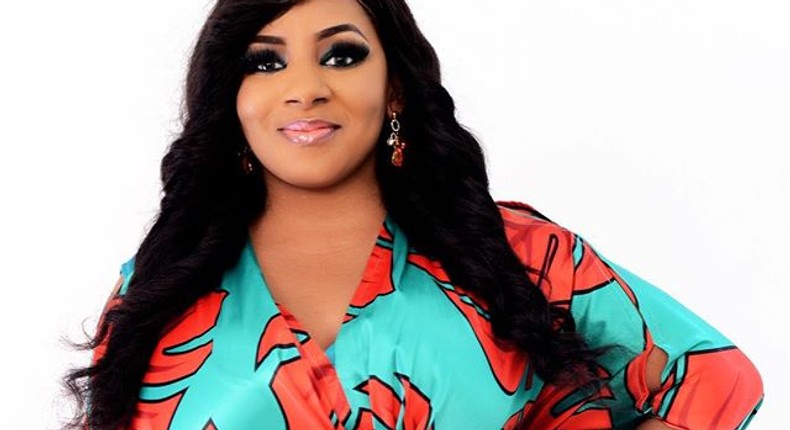 It seems another one has bitten the dust. The marriage of Yoruba actress
Last week the rumour swirled across the gossip sites that the actress' marriage to fellow actor
The rumour started when Mide Martins failed to send her husband birthday greetings on his Instagram. The report later took another dimension. It was said that the actress had moved out of her matrimonial home.
Sigh...where did it all go wrong. In March, 2015 Mide Martins spoke about her marriage. From her interview there were no visible indications that there was any trouble in her marriage. She even said she spices things in the bedroom for her husband.
"Let's face reality and let us not deceive ourselves, if you have a man and you are not able to do all these sex styles, you would lose him to all these girls out there who are ready to drive him mad with these sex styles that come out everyday, it is important for wives to spice up the sex life in their marriage.  It is the key to sustaining a happy home and marriage please.
"Me I do the doggie style, spice it up, everything.  I do all the styles please. I will advise women not to let any body mislead them, women, please always have good sex with your husband so he won't have any cause to go outside" said Mide Martins in her interview with YNaija.
So what happened? The doggie style could not hold down bros again? We men are funny creatures. A woman could give a man heaven on earth but he will still cheat. Contrary to popular belief sex cannot hold a man down. You can be a Kama Sutra expert and a man will still look outside for someone else.
Many women should know this. It is not what you do or what you don't do that will determine if a man will be with you. It has never been about that and it will never be about that.
How do you stop a man from cheating or looking outside? There is no answer to that. Men can't be stopped from itching for more. As a woman you can have all the skills of a porn star and a man will still leave you.
Let me give you the secret. The answer lies with us men. If a man is not content with the woman he has and is not disciplined to honour his vows he will always look outside. That's the truth.
It is not up to women on if her man will stay. In most cases women should not blame themselves for leaving. If it was meant to be it would work. There are couples who are in happy marriages who have never tried anything in bed beyond the missionary position.
Mide Martins will be alright. If her side of the story is to be believed then there's nothing she could have done. Men will be men. Many women in her situation should know this. They are not at fault, doggie or no doggie style.
See more on actress in video below.
JOIN OUR PULSE COMMUNITY!
Recommended articles
BBNaija 7: I wonder how you were roommates with Hermes, he looks like a shrine - Phyna to Khalid
BBNaija 7: That's so stupid, are we kids here?- Daniella slams Ilebaye over socks
First-ever BBNaija documentary to premiere
'Fly Talk Only': Payper Corleone displays the flamboyant life of a Don [Pulse Album Review]
Moses Armstrong charged with rape of minor and supplying abortion drugs
OC Ukeje stars in Netflix's 'Locke & Key' season 3
Global Citizen announces lineups for 2022 Global Citizens Festival in Accra & New York on September 24
Revisiting Davido's 2017 blistering run [Pulse Afrobeats Throwback]
BBNaija 7: Live updates of the 'Level Up' season (Week 3)