'The domestic violence in my marriage is real' says actress in tears
Tonto Dikeh reveals her husband beat her up on numerous occasions in their marriage.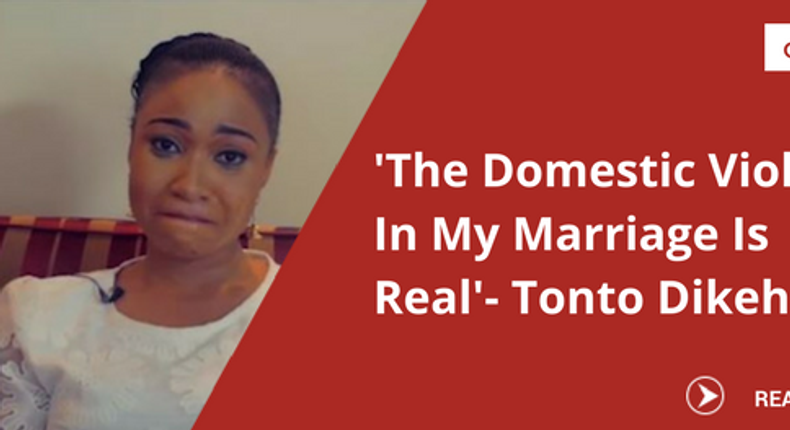 In an interview with Media Room Hub published today, Wednesday, March 8, 2017, Tonto Dikeh revealed amidst tears how her husband battered her.
"This interview is not meant to discredit my husband or rather my ex-husband in anyway. It's not to bring him down. It's not to make people hate him. It is not to throw dirt on him.
"If there's anything I am doing this for, is so that he can be a better man and like I said so somebody somewhere would be able to learn from this from what I am going through.
"There are some things I will not like to rediscuss. I did post something about the STD. I am not taking back my words because it is not a lie but I will not promote it" she said in reference to her claim that her husband gave her STDs.
"I will not go ahead and embarrass my husband in that manner even if I have. I will like that to just end" she further said.
She was however willing to open up on the domestic violence she suffered in her marriage.
"The domestic violence is real. It's real. How I lived to suffer it and go through it over and over again I do not understand.
"A lot of people have blamed me. A lot of people have said a lot of things. I have read a lot of things. I stayed back in my marriage not because of my child but because I believe you cannot be abused or you cannot leave a child where there is abuse and you claim you are doing it for your child. No. I stayed because I was doing it for myself. I stayed because I loved my husband with all of my heart.
"I stayed because he had begged me to stay a couple of times. I stayed because I didn't just want to give up. I didn't want to give up on the marriage just like that. People change" said Tonto Dikeh in the video interview.
She claimed that Oladunni Churchill brought in pastors after he beat her up but that didn't too much because he never owned up to his faults.
"Anytime something like this happens, my husband comes up with a pastor who is always in the house the next day or two days later who is begging, who is doing stuff. Yes but we have never had a real counselling" revealed the actress.
"He would never accept that he is doing it. That's the point. that's the worst. And I keep asking him that if you are so ashamed of what you do to me then why do you do it."
During the interview she showed photos of her with bruises, cuts and wounds on her body. Tonto Dikeh also made the startling revelation that she once ran to the Nigerian embassy in Ghana naked one day after she was beaten up by her husband. She says the embassy has photo and video evidence of the bruises on her body.
"My husband has humiliated me so much with this. And for anybody to tell me that I am lying against my husband that even hurts me more" said Tonto Dikeh as she broke down in tears.
You can watch the full video below;
JOIN OUR PULSE COMMUNITY!
Recommended articles
P-Square, Davido, Burna Boy, Wizkid, Ckay, Kizz Daniel, among Afrobeats line up for Afronation
#PulseElections2023: 10 Nollywood movies that'll spur you to get your PVC
'My next album is for generation unborn' Jesse Jagz declares
Fireboy DML struggles to fight back the tears after Wembley Stadium performance
Fireboy announces release date for 'Playboy' after historic performance at Wembley
Funke Akindele and JJC Skillz's marriage crashes
Check out the official trailer for'Bound:Lost in the Moment' short film
R. Kelly sentenced to 30 years for racketeering, sex trafficking
Here's a first-look teaser for 'Abé Ni' directed by Chukwu Martin