6 lovely things Omotola Jalade-Ekeinde has said about her husband
Omotola Jalade-Ekeinde who has been married to her husband for 20 years has never stopped gushing about him.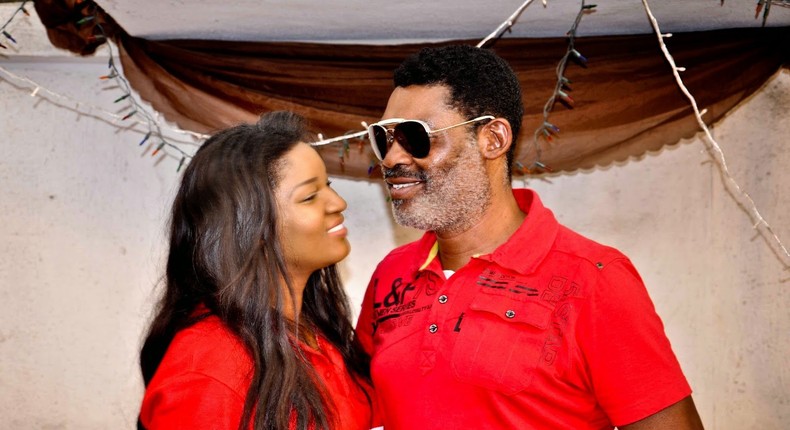 This week Nigerian super actress
Their 2 decade union has produced four kids.
Omotola Jalade-Ekeinde met her husband in church and she was introduced to him by his sister. She was 16 years old at the time. He proposed to her two years later and Omotola said her mother was shocked.
Omotola's mother told Matthew Ekeinde to wait for a while but he was adamant that he wanted to marry Omotola.
Today (Wednesday, March 23, 2016) is Omotola Jalade-Ekeinde's husband's birthday. The actress has asked her fans to drop birthday messages for him on her Instagram account.
Below is a list of six wonderful things Omotola Jalade-Ekeinde has said about her husband.
1) "I don't think there is any man that can handle me apart from my husband. Not because I am a bad person, it is because I am a very strong personality" - Omotola Jalade-Ekeinde in Vanguard 2015.
2) "I always tell people that women are stronger than men, psychologically. Let me tell you something more, my husband is actually the one who goes to the market. I don't go to the market because I can't. Because of my status, I can't but my husband didn't say you know traditionally, a man is not supposed to go to the market, I'm not gonna go, no. My husband actually goes to the market"- Omotola Jalade-Ekeinde on Nollywood Uncut in 2015
3) "He soon became a friend of the family. He was almost like a father figure, He'd drop my brothers at school and stuff" - Omotola Jalade-Ekeinde in Stella Magazine in 2013.
4) "In my family for example, divorce does not exist. We have never fought and one of us said I am going to divorce you. We do not give room for divorce at all. I can't divorce my husband" - Omotola Jalade-Ekeinde in This Day 2013.
5) "#Happybirthdaycaptain Capt Matthew Ekeinde.We thank God for gifting you to us. A God-fearing , Bible believing, kind hearted, Humble, Loyal, funny , considerate , Understanding, Responsible, Hardworking, visionary leader of a man ... What a blessing. Truly what a blessing.We love you" - Omotola Jalade-Ekeinde via Instagram on March 22, 2016.
6) "No! I've never been attracted to any man other than my husband. My husband is sweet; he's very cute, handsome and attractive. He's the one man I have always been attracted to all my life" - Omotola Jalade-Ekeinde in New Telegraph 2015.
Watch Omotola Jalade-Ekeinde dance to 'Woju' below;
JOIN OUR PULSE COMMUNITY!
Recommended articles
BBNaija 7: I wonder how you were roommates with Hermes, he looks like a shrine - Phyna to Khalid
BBNaija 7: That's so stupid, are we kids here?- Daniella slams Ilebaye over socks
First-ever BBNaija documentary to premiere
'Fly Talk Only': Payper Corleone displays the flamboyant life of a Don [Pulse Album Review]
Moses Armstrong charged with rape of minor and supplying abortion drugs
OC Ukeje stars in Netflix's 'Locke & Key' season 3
Global Citizen announces lineups for 2022 Global Citizens Festival in Accra & New York on September 24
Revisiting Davido's 2017 blistering run [Pulse Afrobeats Throwback]
BBNaija 7: Live updates of the 'Level Up' season (Week 3)