5 epic clapbacks from celebs in 2016
With the new clapback trend celebrities have adopted, we are pretty sure 2017 will be almost troll free.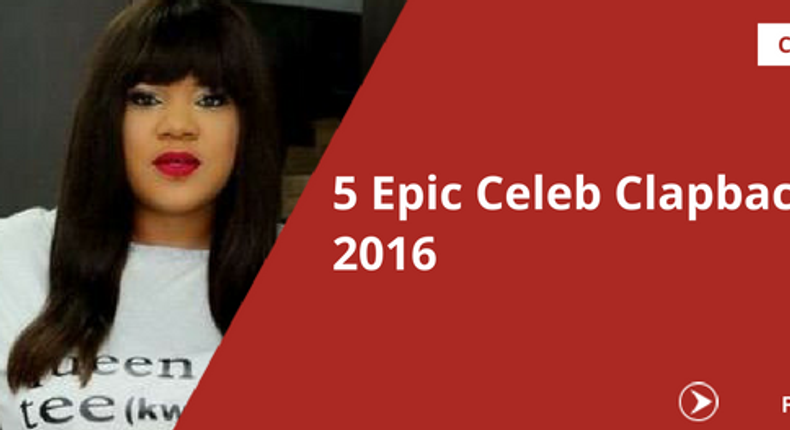 We can all agree that 2016 has been the year for clapbacks and the celebrities have no chill.
Gone are the days when celebrities sat back in impotent rage and let fans and haters alike trample all over them.
This year, people got blocked faster than they could blink, 'washed' and even prayed for when they trolled celebrities.
We have compiled five of the best clapbacks and reactions to trolls from celebrities.
1) Banky W might be soft spoken but that was not the side he showed to the troll that called him a fool on Twitter.
A fan tweeted at the singer on June 28, 2016 writing, "I over heard you that you can't marry a normal person "A girl from a poor or low background". If you truly said that, you are a big fool!!!"
Banky W hit back at the fan by tweeting, "I didn't.. But you're a bigger fool for jumping to conclusions, believing everything you hear & tweeting me this crap." This is uncharacteristic of Banky W who has been cool and calm as the marriage pressure piled on but enough was definitely enough.
2) Toyin Aimakhu is known for her big heart but also has a temper that is far bigger and vicious.
Considering the amount of trolling, criticisms and the like the actress has had to deal with this year, her reaction to being criticized for leaving her ex husband, Adeniyi Johnson was more than expected.
3) Uche Jumbo tried towing the 'ignore it or mildly mocking toned' replies but even she had her own breaking point. After being called for the hundredth time, the Nollywood actress calmly but firmly explained her efforts and advised the haters to unfollow 'NOW'.
She wrote via Instagram, "I usually won't do this but it's kind of getting tiring with the 'you are FAT' comments here please I have mirrors in my house, I came from this place in this picture after Matthew was born from 243 pounds to 198 pounds, not anywhere near where I want to be but still working on my weight like most women so if you are one of those that only get into the comments section to write how 'FAT' I am?
"Please do yourself the favour of unfollowing this page NOW. You can always take your comments to the blogs that way we are both happy. #zerotoleranceforstupidity."
4) Lilian Esoro left no doubt in the mind of the cyber bully who fat shamed her that she would not take any shots sitting down.
Although she replied another troll three days later in a much calmer tone, the point was well made with her initial outburst.
5) Ebube Nwagbo is also another celebrity running low on chill pills. As is the case for most female celebrities, internet bullies tend to body shame but this actress was having none of it. She gave as much as she got when another troll criticised her makeup, calling her a witch.
She wrote,  "Oh really???It takes one witch to know another..Pls could u help me find my way back???Anuofia." She pulled off the politely rude tactic very nicely.
We hope that our celebrities and others who have been victims of cyber bullying, will avail themselves of our guide on how to handle internet trolls.
Our newsletter gives you access to a curated selection of the most important stories daily.
Recommended articles
Lover girls or doing too much? Here's what viewers think about BB Naija S7 babes
BBNaija 7: Groovy is good looking but slightly timid - Sheggz
7 Tricks and strategies BBNaija housemates have showcased over the years
How Orijin lit up the Big Brother House with Ankara-themed party
Pastor Iren delivers a divine message in 'Apostolos' [Pulse Album Review]
BBNaija 7: Live updates of 'Level Up' season (Week 4)
Ranking M.I Abaga's Top Five Albums [Afrobeats Throwback]
How to save your favourite BBNaija housemate from eviction
Nollywood movies you should see for heartwarming laughter