Omoni Oboli and husband in love more than ever after 18 yrs together
The romance is still quite strong for Omoni Oboli and her husband while they celebrate 18 years together as husband and wife.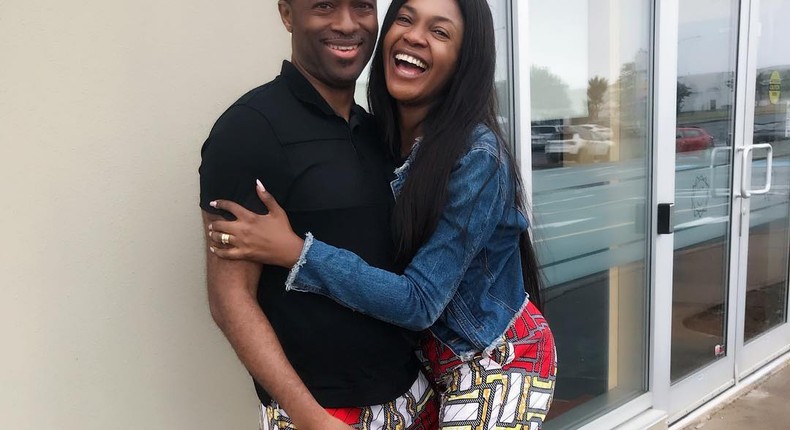 Omoni Oboli is celebrating 18 years of marriage with her husband Nnamdi Oboli.
The actress shared this on IG today while looking forward to a future filled with an undying love for her partner.
"18 years later, you still make me deliriously happy!
"I couldn't have married a better man! The woman I am today, I owe it all to God and you!
"I love you endlessly. Thank you for loving me unconditionally. My hero!
"Happy anniversary baby! Forever beckons," the actress writes.
In a 2017 interview with Punch News, she opens up on why her marriage is still intact. It is a matter of understanding her partner.
"I don't know if I keep my home intact; I believe God does that for me. There are many women who do the right things and show up at every time for their husbands and still get the short end of the stick.
"So I don't take credit for it. I have my moments and he does too, but somehow it has never tipped the scale and that's because God made it possible.
"Nevertheless, I believe that when you understand that you're both different individuals who have become one, then you can try to weather any storm, knowing that if you don't, both of you will have a dreadful life in that marriage.
"Enjoy it and seek for the things that make for peace because life is too short to waste it fighting."
Omoni got married to her husband in the year 2000. They are both blessed with three children.
Our newsletter gives you access to a curated selection of the most important stories daily.
Recommended articles
7 Tricks and strategies BBNaija housemates have showcased over the years
How Orijin lit up the Big Brother House with Ankara-themed party
Pastor Iren delivers a divine message in 'Apostolos' [Pulse Album Review]
BBNaija 7: Live updates of 'Level Up' season (Week 4)
Ranking M.I Abaga's Top Five Albums [Afrobeats Throwback]
How to save your favourite BBNaija housemate from eviction
Nollywood movies you should see for heartwarming laughter
Throwback Movie Review: "Is this your King?" - King of Boys 2 review
Asake spoils himself with a sprawling mansion in Lagos