Fuji maestro denies involvement in shooting of OOU student
Fuji's biggest legend releases statement washing his hands off any shooting incident at his show.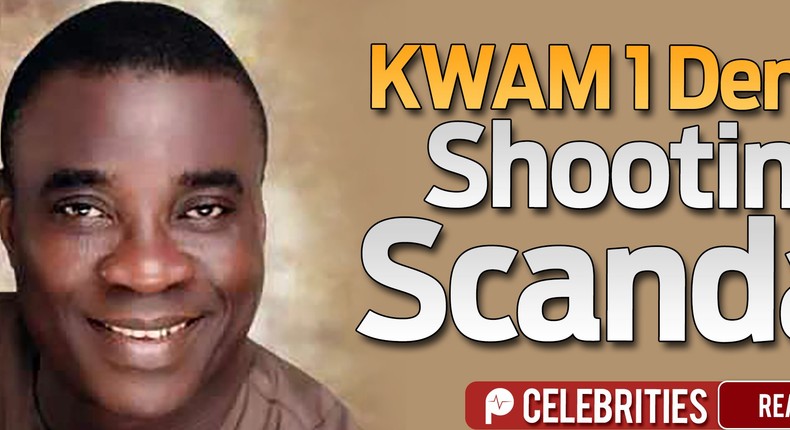 Fuji music legend Alhaji Wasiu Ayinde Anifowose has been fingered in the shooting of a female student of Olabisi OnabanjoUniversity.
The incident occurred at Ago Iwoye, at his show on Sunday, October 10, 2015.
The female student Kofoworola Azeez was allegedly shot by an aide of the singer, who is popularly known as KWAM 1, during a musical show at the popular Limelite Hotel in Ago Iwoye, PM News reports.
According to the report, the show, organized as part of the Ago-Iwoye Day celebration, ended due to the chaos that followed the shooting.
Student Pulse gathered that Kofoworola was hit in the buttock by the bullet which entered through the rear door of the car she was sitting in.
She is reportedly responding to treatment at the General Hospital, Ijebu-Ode.
Due to the shooting, KWAM 1 has been invited by the State Commissioner of Police, CP Abdulmajid Ali. This was revealed by the spokesman of Ogun state's Police command Deputy Superintendent of Police, DSP Olumuyiwa Adejobi.
"Before the policemen got to the scene, the musician and his team had left the place," he said.
"The Commissioner of Police has instructed that KWAM1 should be invited and he has been invited to tell the Police how it all happened and who among his band members pulled the trigger.
"We are expecting him to come and give us the account of everything that happened so as to assist us in our investigation.
"He is expected to come with his band boy that fired the gun" said Olumuyiwa Adejobi.
King Wasiu Ayinde Marshall has now responded to the allegations that he was involved in the shooting of the student.
In a press release statement sent out today by his publicist, the Oluaye of Fuji, said his show went smoothly and was not disrupted by gun shots. He also said he had no knowledge of a student being shot at his show.
You can read his full press release below;
"My attention has been drawn to a story about a female undergraduate being shot at Lime Lite Hotel, Ago Iwoye, Ogun State, where my band was engaged to perform last Sunday.
"Let me also add that, on my way to the venue of the show, I noticed the heavy presence of security personnel of both the Police and Military forces. This gave me confidence that there would not be any issue of disorder during our stay in that neighbourhood. I mounted the stage to perform at 3:30 am on Sunday, and stopped at about past 6: 15am. In attendance at that show were the kabiyesi of the community, many highly-placed dignitaries and many students. After we were done, both students, police and military personnel rallied round me and my band to take pictures.I wish to state here that such incident, as reported by some newspapers never happened. To the best of my knowledge, there was peace and order, right from when I arrived in that community, till when I left the stage and took my leave.
"Some people even asked me to settle them with "kola", and this request, I gladly obliged to all groups. Eventually, we left the venue with security escorts, who had ushered us into the community when we first arrived at the boarder of the area via same way.
"I headed for my house in Ijebu-Ode, where I rested for almost seven hours before I finally returned to Lagos to catch a flight to London.
"One can then imagine my shock when I began to receive calls from well meaning friends and family, who became concerned after reading the alleged shooting incident in The Punch Newspaper and some other news platforms this morning.
"On a final note, I want to implore the media and the police to investigate what happened between when I arrived in that town till my departure. I believe those who attended the show and the people living in that community will be helpful in giving a true version of what really transpired on that day.
"Like I have mentioned earlier, there was no incident of shooting before, during and after my show in Ago-Iwoye. Nothing like that happened to the best of my knowledge.
Thank you and God bless."
Goldmyne Entertainment, the organizers of the show also denied the claim that a student was shot at the concert.
In its press statement released today, the organizers said "Contrary to claims by and some other bloggers, the event was violence free which could be confirmed from His Royal Highness, Ebumawe of Ago Iwoye, and his entourage, who graced the occasion.
"K1 performed for about 3 hours and ended at about a few minutes past 6am on Sunday, 11th of October 2015. Before he got on stage, and held the audience spellbound with their performances.
"It should also be noted that we have in our possession, pictures, videos and audio evidences to dispel the claims that the show ended as a result of the alleged incident. It was also claimed that the show ended abruptly as a result of one female OOU student who was allegedly shot by a member of K1's security team. In contrast, this never happened and the event ended as scheduled in the early hours of Sunday morning having everyone who attended experience great fun and live music.
"Furthermore, maximum security was provided with combined personnels from different security agencies including the Ago Iwoye police. This was put in place to ensure that law and order was maintained and to forestall any up spring of violence.
"We therefore appeal that the public disregards any information from any media platform claiming the event was marred with violence and that K1's security team ever shot a student."
Watch Pulse TV video for concert by fuji legend Pasuma.
JOIN OUR PULSE COMMUNITY!
Recommended articles
Sony Music Publishing opens Nigeria office, appoints Godwin Tom as MD
BBNaija 7: Why I can't be cool with Doyin - Sheggz
'Two years since my last release...Una Popsy go soon drop' Wizkid promises new music
BBNaija 7: Live updates of 'Level Up' season (Week 4)
Fireboy's 'Playboy' debuts on Billboard Album Charts
September will be rosy for film lovers, catch the list of coming films
BBNaija's Beauty breaks silence over disqualification, apologises to fans
Rising Afrobeats singer Albertium drops celebratory EP 'Fairytale'
Fireboy drops themed video for chart-topping single 'Bandana'