'I hope my title inspires little girls to keep going' - Chimamanda speaks on chieftaincy title
Adichie was conferred an Igbo chieftaincy title in her hometown, Abba, on December 30, 2022.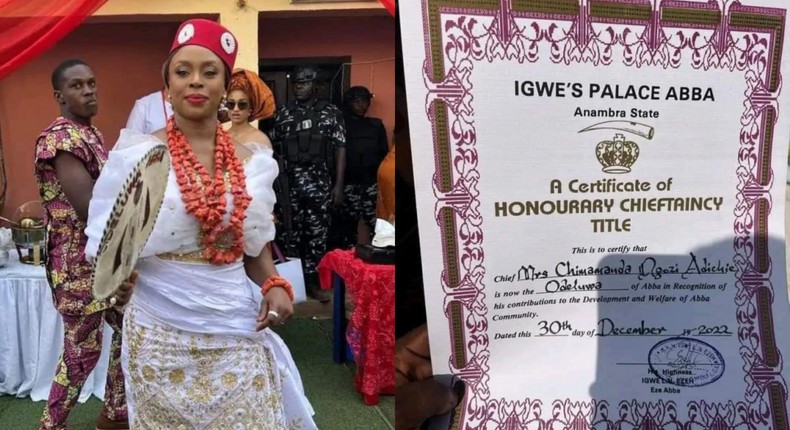 Award-winning writer and novelist Chimamanda Ngozi Adichie has expressed her feelings toward the traditional chieftaincy title she was decorated with.
On December 30, the novelist was given a chieftaincy title in her hometown Abba, Anambra state.
The title, "Odeluwa," is an Igbo language expression translated as "the one who writes for the world."
The writer shared her pleasure at becoming the first female chief of the community in a Facebook post in which she also expressed her gratitude for the people and traditional leaders of her hometown.
"I am the first woman in my hometown to be made a chief, and it makes me happy to know that more women will follow. Culture does not make people, people make culture," she wrote.
"Cultures thrive when they best serve and reflect the people. Ours must become a culture that celebrates achievement, whether it comes from a man or a woman. It was a day filled with joyful moments but the highlight for me was the sight of many children on the dusty road, laughing and waving and shouting 'Odeluwa'. Amongst them, I hope, were little girls with their hearts full of dreams who feel encouraged to keep trying, to keep going."
Adichie is known for her fiction, nonfiction, and short story writing.
She was referred to in The Times Literary Supplement as "the most prominent" of a "procession of critically acclaimed young anglophone authors [that] is succeeding in introducing a new generation of readers to African literature," particularly in her second country, the United States.
JOIN OUR PULSE COMMUNITY!
Recommended articles
'Grammy nominee wey dey live for trenches' - Peter Okoye blasts Seun Kuti for comments about Peter Obi
'BBTitans': Housemates defy Biggie's warnings as they have a go at each other again
'BBTitans': Yemi corrects public perception about him, says he's not a s*x addict
'The Real Housewives' franchise extends to Nairobi
'BBTitans': Yemi back in bed with Khosi, shares kiss with Blue Aiva after
Afro-pop sensation Lojay is Apple Music's latest Africa Rising recipient
'I really love Zazu's interviews,' Olamide says about Portable
Veteran actors Chidi Mokeme and Hank Anuku reunite in heartwarming video
Talented Hip Hop sensation Rex Borz drops new freestyle titled 'Snowstorm'