Singer visits childhood home, recounts experience
Darey writes about his childhood home and memories.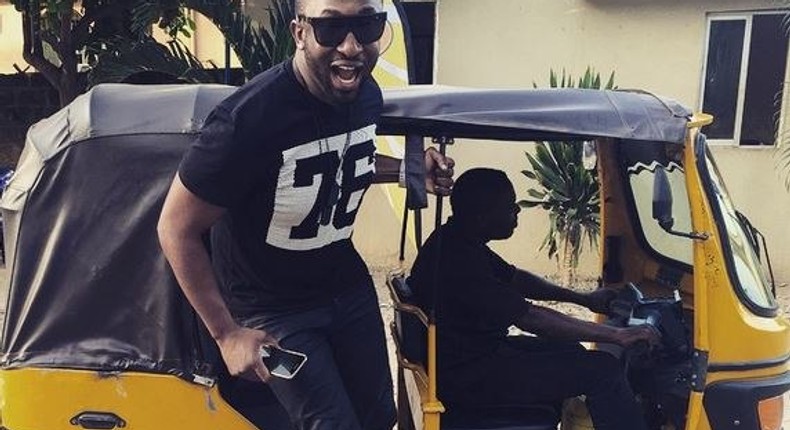 Award winning singer Darey Art Alade went back to his old neighbourhood at Mende Village and visited his childhood home.
The house Darey grew up in is no longer occupied by his family. The singer met the new owner of the house, and recounted the experience of seeing his childhood home after so many years.
Darey shared his experience on Instagram yesterday (October 7). "Took a trip to my childhood home in Mende Village and met this guy @mr_rozay92 who now lives at our old house with his siblings. Cool chap, welcomed us into his home. It was fun. I'll post the video tomorrow. But if we are being honest, it felt kind of weird seeing somebody else living there lol. A few things had changed...the external colour, location of water tank...gates and fence and of course where we had our TV was different from their own layout! Feels like someone just entered my head and deleted some files from my childhood's memory folder lol. I won't be able to think of the house in the same away again lol. Paid a visit to your childhood home recently? How did it feel? #Nostalgia #Memorylane #Naked #DareyNaked" he wrote.
Darey also wrote about the basement in his home called 'Art's Place' ran by his father. The basement was visited by a lot of singers back in the day. "Art's Place" was "THE PLACE" to be in its hey day. My late father Art Alade ran his club in the basement, had an Art gallery and also a restaurant. We lived on the topmost floor secluded from all the public spaces and we enjoyed every moment there! This world famous place had several visitors from everywhere. From His close friend and contemporary Fela Kuti to Oliver Jones, Zeal Onyia to Orlando Julius. The list was endless. Many people found their life partners here by chance after coming out to have a good time and be entertained by the great man that I call my dad. Our neighbors then are still close friends of our family till date. Memories of playing soccer and running around the neighborhood are etched solid!"
"I've been all smiles since yesterday. Wonder why I never thought to do this before. I wish I could really describe the way this feels; going to all these places, seeing all these people... wow. It's one thing to let your mind roam free to explore events from your past. It's another thing to actually visit those places and see how far you've come. I am full of thanks and love, completely humbled by these streets. You should definitely try this sometime soon; it's beautiful! More to come tomorrow...Good night!" he further wrote.
Darey is prepping up for the release of his next studio album ''.
Watch Pulse TV video for more on celebrity scoop.
JOIN OUR PULSE COMMUNITY!
Recommended articles
Nollywood veteran Clem Ohameze gets N1.5M gift from pastor who sponsored his surgery
Banky W and Adesua Etomi celebrate their son as he turns 1
BBNaija's Omashola and fiancee welcome baby boy
Davido & other stars thrill customers at Lush Club
Mercy Aigbe's estranged husband Lanre Gentry confirms paternity of their son
5 Nigerian TikTok influencers you may start paying to watch
Sammie Okposo impregnates American based woman, apologises to family over infidelity
Mercy Aigbe shares video from her 'traditional wedding' to Kazim Adeoti
Bovi's wife recounts how ectopic pregnancy ruptured in one of her tubes