Teacher 'in soup' for allowing female student to touch her chest, lie on top of her
A teacher who allowed a female student to touch her breasts and lie down on top of her may be sacked job as further sanctions are expected to follow the initial one day suspension handed down for the inappropriate act.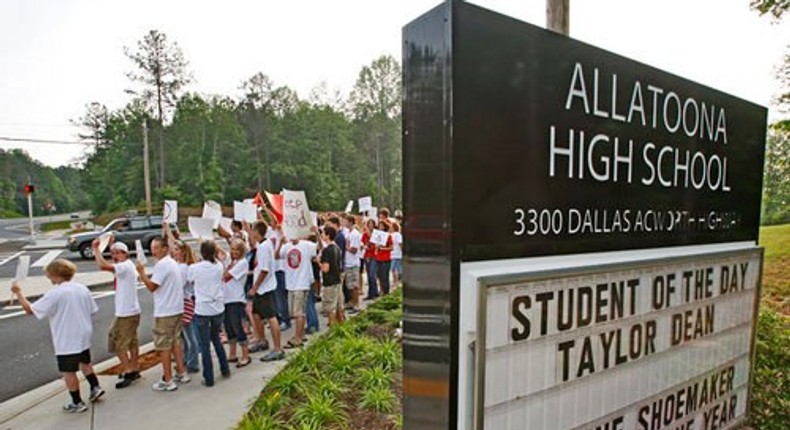 A school suspended a teacher from her job because she allegedly allowed a female student to touch her body inappropriately.
The unnamed female teacher, a coach at Allatoona High School, got a one-day-suspension, with further discipline expected, after allowing a female student to touch her chest and sleep on her body in the school bus.
WSBTV reports that a staff member said she saw the coach and a student sleeping together in the bus.
"They were face-to-face, lying on top of each other and then just crawl up and go to sleep," the staff said.
But the accused teacher said the touching was a joke and not inappropriate in recordings of her interview with Cobb County schools.
"She was nervous about going on to a competition and was like 'Oh, good luck' and then just rubbed them for good luck," she said.
"Like a baseball player walks up and hits his coach on the butt or a football player."
It is believed that she will face further discipline.
JOIN OUR PULSE COMMUNITY!
Recommended articles
Top 10 happiest countries in Africa in 2022
9 most expensive African countries to rent a one bedroom apartment, based on property price to income ratio
Here are the top 10 cities in Africa where the most rich people live
For men only: Seven natural ways to last longer in bed
If your partner is sapiosexual, here's how to turn them on
Femi Adebayo's 'King of Thieves' grosses over N250 million in box office
DaBaby had to 'pay the whole airport' in Nigeria in order to leave
BREAKING: Chelsea confirm Todd Boehly led consortium as new owners
2Face Idibia tattoos names of his 7 children on his arm