'Bill that proposes 5-year jail term for randy lecturer is unfair'
"In this particular instance, the bill violates the Federal Government of Nigeria and ASUU agreement of 2009 and as such should be rejected."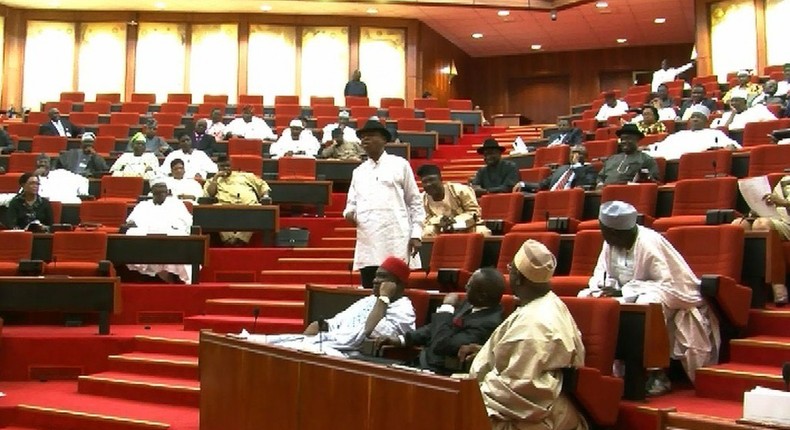 President of the union, Professor Biodun Ogunyemi, stated this at a Public Hearing on the bill, organised by the Senate Committee on Judiciary, Human Rights and Legal Matters.
The News Agency of Nigeria (NAN) reports that the Sexual Harassment Bill was sponsored by Senator Ovie Omo-Agege (LP- Delta Central) and co-sponsored by 57 other senators.
The bill seeks to criminalise sexual harassment in tertiary institutions and it, among other things, proposes a five-year jail term for lecturers found guilty of sexual harassment of students.
Ogunyemi said that universities were established by law as autonomous bodies, adding that there were laws that clearly articulated redress procedures.
"As a global norm, universities and other tertiary institutions are established by law as autonomous bodies and have their own laws regulating their affairs.
This includes misconduct generally among both staff and students, with clearly articulated appropriate redress mechanism.
Any law or bill which seeks to supplant these laws violates the university autonomy.
In this particular instance, the bill violates the Federal Government of Nigeria and ASUU agreement of 2009 and as such should be rejected," he said.
He said that the bill was discriminatory because it was targeted at educators.
According to Ogunyemi, "it is unfair to come up with such a bill; sexual harassment is a societal problem and not peculiar to tertiary institutions".
He also said that the bill was a violation of Section 42 (1) of the 1999 Constitution, adding that it was embarrassing that the legislative arm could seek to make such law that would violate the Constitution.
Ogunyemi also pointed out that besides violating the Constitution, the bill failed to take cognizance of various extant legislation that adequately dealt with sexual offences.
Faulting the bill further, he said that it failed to provide convincing evidence to show that sexual harassment in tertiary institutions had attained a higher magnitude than other spheres of the society.
"The bill is discriminatory, selective, spiteful, and impulsive and lacks logic and any intellectual base by attacking the character and persons of those in tertiary institutions rather than addressing the issue holistically.
"Furthermore, the bill is dangerous and inimical to the institutions as it contains several loose and ambiguous words and terms which could also be used to harass, intimidate, victimize and persecute, especially lecturers, through false accusation," he said.
However, the National Universities Commission (NUC) supported the introduction of the bill "in view of its relevance" and called for its passage.
The Executive Secretary of the commission, Professor Julius Okojie, said that while federal and state universities had administrative structures for handling grievances, there was nothing wrong in having a legislation to help with that.
"University Miscellaneous Provision Act gives them power to formulate policies and by-laws to guide them and most institutions have structures to handle these incidences. However, there is nothing wrong if there is a legislation to add to what is on ground. We are only saying that universities are doing something about sexual harassment, which may not be enough," he said.
Okojie therefore called on the senate to extend the scope of the bill to cover primary and secondary schools.
"The bill appears to have duplication of offences already created in our extant laws. There should be holistic approach to accommodate existing regulations in schools," he said.
He advised that beyond enactment of laws, Code of Conduct should be given to workers in schools, reiterating the need to be morally sound.
He called for more awareness on the matter as well as the need to have dress codes in schools to prevent any form of harassment.
"Senate is empowered to determine what a dress code should be. During a research, we noticed that the issue of harassment is linked to suggestive dressing," Okojie disclosed.
On its part, Legal Aid Council drew the attention of the senate to some provisions of the bill that required re-examination.
According to Director-General of the council, Joy Bob-Manuel, the mandate of the council is to defend, and unless laws are made in clear terms, lawyers can take advantage of loopholes to make their case.
"We are aware that when a case goes to court technicalities rubbish it. So, there are provisions in the bill that should be looked at a second time.
For instance, 18-year bracket contained in the bill can form technical defeat.
We also suggest that a lawyer in the faculty of law should be made a member of the prohibition committee," she said.
JOIN OUR PULSE COMMUNITY!
Recommended articles
'That video has ruined me' -Liverpool's €100m forward under the storm again
Ex-Super Eagles and Barcelona star Amunike makes Iheanacho his first signing in Zambia
Fashion Police: Chike's black skirt at the BBN live eviction show caught our attention
Reactions trail Nigerian Professor's comment about 'dying' Queen Elizabeth
Chelsea owner Todd Boehly edging closer to buying second football club
BBNaija 7: Now that I'm out I will... - Allysyn shares plans for romance with Hermes
17 PDP governorship candidates beg Wike to forgive Atiku
Fans call for ex-Real Madrid forward to stop taking penalties
What happens now that Queen Elizabeth is dead?