What prophet's departure means for his Nigerian church members
After becoming one of Nigeria's most popular, yet controversial preachers, T. B Joshua is leaving the country for Israel!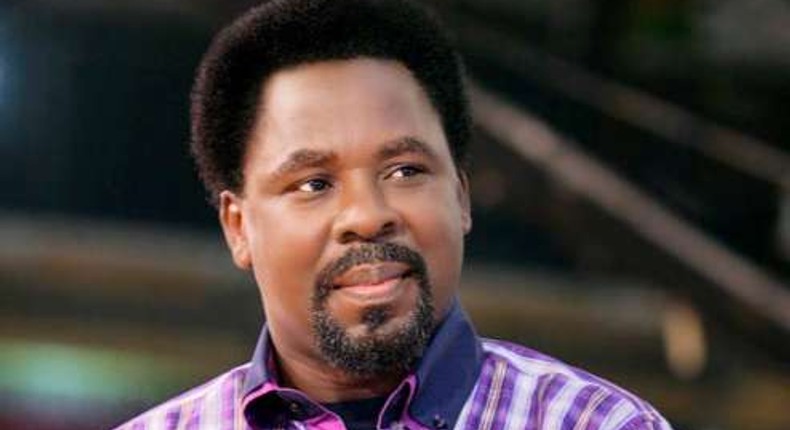 For years now, Prophet T.B Joshua has ruled the religion scene in Nigeria.
Thanks to his numerous prophecies, jaw-dropping miracles, rocky scandals, the Synagogue Church of All Nations (SCOAN) has succeeded in making a name for himself in this country.
However, the prophet has decided to leave all of this behind and relocate to another country! He made the announcement during a recent church service.
He stated that he has numerous reasons for deciding to move to Israel, while insisting that his decision had nothing to do with the "persecution" of his ministry.
T.B Joshua said: "This is where my Father in Heaven came from – it's non-negotiable."
"It's the best place for you to meet Prophet T.B. Joshua. After your healing, blessing and deliverance, you can move around all the spiritual monuments which will establish your faith."
"This is the most persecuted ministry in the world. Who are the people persecuting the ministry? My people, Africa.
"That is why I choose to live a lonely life. If you want to see me, come to this church. I don't go out. It has not been easy – because I don't know who is a friend or who is an enemy.
"If you learn T.B. Joshua is not around, I am in a revival. I live in the church here. I don't have a house outside."
"Anytime you pray, remember Africa in prayer. Many heroes and great people have been chased out of Africa. There are many geniuses in the Western world who are originally from Africa."
"What happened to me from the beginning of my ministry is enough to chase me out of this country – but I am still in your midst. Upon the persecution and hatred. I decided to follow the path of love.
"You show hatred; I show love. When I go for a revival, you will see the stadium full but I am not carried away by that. I leave where I'm celebrated to live where I'm persecuted."
"Where you are not celebrated is the best place to stay, to get strength. When you are in the midst of a battle, you are building yourself.
"That is why I decided to stay where I am not celebrated here in Nigeria. When the grace of God is amid challenges, it gets stronger."
"Your life can preach a better sermon than your mouth."
What does this mean for his devoted church members? How will they cope in his absence?
His departure definitely means that people will lose their beloved religious leader.
The crowd at his church, every Sunday, is proof of how many people love him and hang onto his words. So, his decision to leave means that they will no longer see him physically, but will have to be content with watching him via satellite TV.
His miracles will also be missed since most people will not be able to afford a ticket to Israel. T.B Joshua's tendency to give large amounts of money, accompanied with bags of rice to widows and others will also be missed.
On a larger scale, there will be no more visits from notable dignitaries like the former Malawian President Joyce Banda, late Ghanaian President John Evans Atta Mills, Winnie Mandela and others. No doubt, this will definitely affect the tourism sector.
The Nigerian Immigration Service's statistics have shown that six out of every 10 travellers visit  Nigeria in order to go to SCOAN. This traffic will be diverted to Israel when T.B Joshua leaves.
On the other hand, residents of Lagos state that live around that axis will no longer have to deal with the terrible traffic associated with the crowds that visit the church.
In spite of this one good thing, the Minister Information and Culture, Lai Mohammed, and All Progressives Congress (APC) member, Mr Timi Frank, are already appealing to the prophet to stay.
Recently speaking with journalists during the Annual General Meeting (AGM) of the Nigerian  Association of Tour Operators (NATOP) in Ikeja, the minister urged T.B Joshua to reconsider.
He said: "That will be very unfortunate in the sense that if he does move out, it will affect our tourism in Nigeria. Pastor Joshua is an important person, he must bear with us. This is his country. If he moves out and go to South Africa (for example), the revenue will go to South Africa. It is better that Pastor Joshua sits down with the relevant authority and resolve whatever problem he has. If I have access to him this is exactly what I am going to tell him."
Just like Mohammed, the APC member also appealed to the prophet to change his mind.
In a public statement, Mr. Frank said: "I am making this appeal bearing in mind millions of people who daily benefit from welfare programmes of this man of God, not only in Nigeria but in Africa.
"Prophet Joshua should know that God did not make mistake to create him a Nigerian and an African with a big assignment. "I believe that his God will vindicate him of whatever persecution that might come his way.
However, not everyone has this kind of reaction to the news.
The founder of the House of God International Ministry, Pastor Chris Okotie and popular OAP, Daddy Freeze, have reacted differently.
While Okotie has attacked the SCOAN founder, Daddy Freeze has lashed out at the Minister of Information and Culture for reacting to this news, instead of other 'important' things.
On Facebook, the pastor said: "He is controlled by a malevolent misanthropic spirit. "His hypocritical jeremiad should be ignored. He is just another frustrated shaman seeking public sympathy."
Writing on his Instagram page, the OAP had this to say.
"Dear uncle LAI, aren't you going to give a press statement on Banky's engagement, as this issue is a matter of national importance, reported by all the newspaper and blogs and has been trending all day on twitter?
"In my humble opinion, I think you should, since you addressed TB Joshua's proposed relocation.
"Meanwhile, I didn't see any press conference addressing the Erisco tomato paste manufacturer's exit from Nigeria to Senegal, sorry I meant Kenya, citing government policy inconsistencies among the many other issues, catalytic to the creation of 'the harsh realities of doing business in Nigeria' that their MD spoke about.
"In his own words, Chief Eric Umeofia stated that the 'ease of doing business' was his attraction in opening shop in the other African Nations."I have a question: In Nigeria, does 'the ease of doing business' only apply to Churches, who are pampered and protected by the government, while most businesses I know suffer?
"I read online yesterday that MTN sacked 280 workers, somewhere else, I read the heart wrenching details of why Econet was forced to leave Nigeria. What about the Virgin Nigeria exit? Yet another painful one. Richard Branson mentioned how Nigerian was one of the most difficult places to do business.
"Did you, or anyone else, try to persuade the man who gave us a National carrier to stay, the way you are persuading TB Joshua? Or was the 'revenue' we stood to lose in this singular act not as significant as losing the 'revenue' of a 'pastor?'"
Love him or hate him, there is no denying that he meant a lot to many people, which means he will definitely be missed.
JOIN OUR PULSE COMMUNITY!
Recommended articles
Single mother of 9 children sentenced to death despite her cry for mercy
Video: Black Sherif goes global as players of Ligue 1 club jam to his 'second sermon'
Lagos Police boss Odumosu apologises, frees arrested #EndSARS protesters, journalists
Amazing transformation of 21-year-old man bullied for being born different (video)
Young Nigerians hit streets of Lagos, Abuja for #EndSARS memorial
Kuami Eugene reportedly throws plush birthday party for his house help, Mary (PHOTOS)
5 ways to have more mind-blowing sex in your relationship
Why do people make sex tapes?
Top 10 famous markets in Nigeria and what they are famous for