18 things Daystar Pastor says about mental health/illness
Pastor Sam Adeyemi has said a lot of things concerning mental illness, including stating that this condition is caused by sin.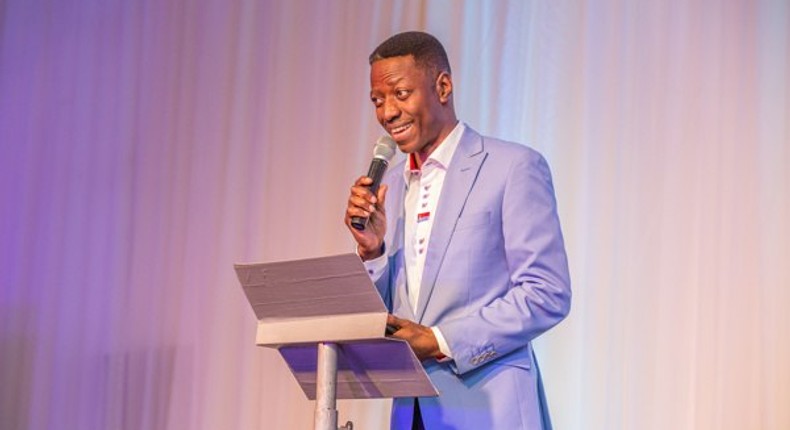 The senior pastor of Daystar Christian Center, Sam Adeyemi, has embarked on a conversation on mental health and illness.
On October 29, 2016, the Man of God discussed his opinion on the condition, the root of the illness and its treatment, all from the religious angle.
Here are eight things he said on Twitter.
1. Sound health is part and parcel of our Salvation package. #MentalHealth
2. The Prosperity and Health of the Soul is the foundation of the prosperity of the physical body. #MentalHealth
3. There is a controversy amongst Christians on Mental Health issues because we believe it is a Spiritual issue. #MentalHealth
4. Mental illness is as real as physical illness. The lack of understanding gives room for a lot of Ignorance & stigmatisation #MentalHealth
5. Mental Health is the state of emotional, psychological and social well being. #MentalHealth
6. As a result of ignorance on this issue, we label mental patients and run away from them. #MentalHealth
7. The root cause of mental illness is Sin. (Rom 6:23)and the foundational solution to mental health is Salvation #MentalHealth
8. To maintain mental health feed your spirit and soul with healthy diet of God's word. #MentalHealth
He continued the conversation on October 30, 2016 with more tweets.
9. If you don't get your identity from God's word you will believe everything the enemy tells you. #MentalHealth
10. If you allow Satan and your circumstances to define who you are it will distort the balance in your mental state. #MentalHealth
11. I speak on mental health not as an expert in psychiatry but on the believe that sound health is part of our Salvation #MentalHealth
12. Feed on God's word, believe you have the mind of Christ. Interpret your life circumstances through the eyes of God's word. #MentalHealth
13. You must fight and win the battles in your Mind. 2nd Corinthians 10:4. You have all it takes to win as a Christian. #MentalHealth
14. The quality of your life will not be better than the quality of your thoughts. Fight and Win your mind battles. #MentalHealth
15. Use faith to fight the fiery darts of the enemy. (Ephesians 6:16) Quench every negative news that comes into your life. #MentalHealth
16. If you want to maintain your sanity, you have to be sensitive to God's word. Be anxious for nothing. Philippians 6:8. MentalHealth * Sorry about this. Philippians 4:8
17. If something is wrong and you need medical attention or If you know anyone with mental illness. Please seek medical help. #MentalHealth
18. Seeking medical help for physical or mental illness does not contradict God's word or having faith for your healing. #MentalHealth
Do you agree with his statements?
JOIN OUR PULSE COMMUNITY!
Recommended articles
5 kinds of noises women make when enjoying lovemaking
Why older men date younger women: Here are 5 real reasons
Top 10 happiest countries in Africa in 2022
Rubber producers present life crocodile to Obasanjo, say they can't give him money
5 things you need to know about Monkeypox
Deborah: Soyinka wants National Mosque Imam sacked over blasphemy comment
For men only: Seven natural ways to last longer in bed
Here are the top 10 African countries that smoke the most cannabis
Why do single women find married men attractive for relationships?