7 interesting stories you may have missed
Here is a list of all the interesting things that happened over the weekend, including Bishop Oyedepo's contoversial statement.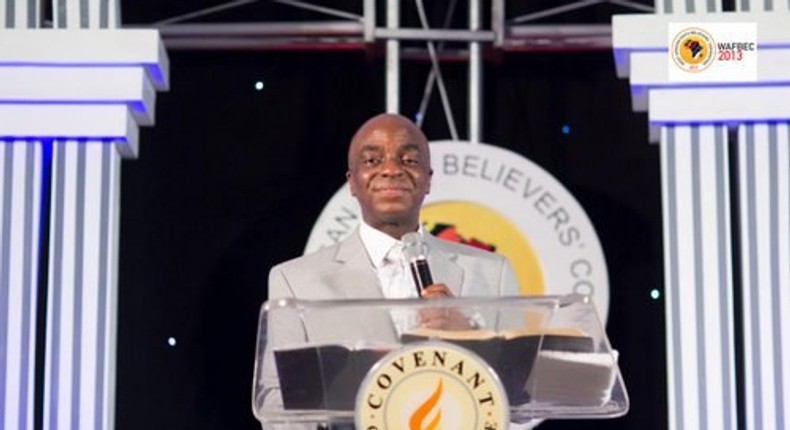 We know how easy it can be to just relax and unplug over the weekend, forsaking everything, including the Internet.
However, a lot of interesting things happened in Nigeria's religious sector.
So, Pulse brings to you a list of what you may have missed over the weekend:
1. Bishop David Oyedepo warns critics to leave the high fees charged at the Winners Chapel-owned Covenant University.
According to him, these fees, allegedly N799,500 per session for 100 level students, have the approval of God.
2. Prophet T.B Joshua says Democratic presidential candidate, Hillary Clinton, will win the US presidential election.
The Senior Prophet of the Synagogue Church Of All Nations (SCOAN), has predicted that Clinton will win over Donald Trump.
"By the way, in order not to keep you in suspense, what I frankly saw is a woman," he said.
3. A "signal" of Jesus' second coming is seen in Israel.
Jesus Christ may be coming soon than we think, thanks to an indication in a video that has been uploaded from Nollywood actor, Mr Ibu's Instagram account.
Are you prepared for this?
4. 19-year-old girl claims to be second Virgin Mary.
A young girl, named Haley, is claiming to be pregnant with baby Jesus. She appeared on  popular Dr.Phil talk show, seeking for support.
"I know my pregnancy is real. I've gained at least 22 pounds. I was sleeping one night and my baby punched the bottom of my stomach and kicked me, and I can feel his head right here, right below my belly button.
My family, my friends, my pastors at church, they don't believe that I'm pregnant. I know its Jesus. I don't care if my family disowns me. It really comes down to if you're a true believer in Jesus or not … I don't care what the home pregnancy test or a doctor says when I give birth to my baby; no one is going to deny him because he's my savior", she said.
In spite of her claims, her mother and sister do not believe. They say that she is both a 'delusional' and a 'compulsive liar'.
All six of her pregnancy tests have proven negative and she has been diagnosed with paranoid schizophrenia.
5. 46-year-old Zimbabwean woman collapses and dies during deliverance. Members of Prophet Adventure Mutepfa's Revival Centre Church's Dangamvura Assembly, in Zimbabwe were shocked after the lady was still motion-less on the floor, after two hours. She was declared dead in the hospital, afterwards.
"It is normal in our church to fall down during worship or deliverance service. She fell down and everyone thought it was the Holy Spirit working on her. It was until 5pm when someone alerted the church authorities that Sister Pedzai was still lying motionless on the ground. They tried to deliver her because they thought she was possessed by evil spirits, but all their efforts were in vain. She never moved an inch. That is when she was rushed to hospital and was pronounced dead upon arrival. It is a sad thing and we are still shocked," a member said.
Pedzai's father, Mr Muyambo, says the death is a natural one, in spite of the suspicious circumstances.
"I heard that they were seated on one bench with someone else and when the prophet walked past them, the other person fell because of the power of the Holy Spirit. Pedzai later fell down because the bench tilted as it was no longer balanced. That is all I heard from someone who was at the church with her," he said.
6. Apostle Job Antwi of Association of Virgin Pastors in Ghana says sex is sweet. In an interview on Joy FM's Weekend City show, he describes his first encounter with sex.
"I never knew sex is this sweet; since I was born I have not experienced this before. It is sweeter than everything, in fact I wish I can do it every day", he stated.
7. Catholic priest blames Italy quakes on homosexuals. Father Giovanni Cavalcoli's explanation is that Italian disasters are God's way of punishing gay unions.
These natural disasters are "divine punishment" for same-sex civil unions, which offend the family and the "dignity of marriage," he said in a radio interview.
In another radio interview,  he said the earthquakes were caused by "the sins of man" and urged the Vatican to "read their catechism."
The Vatican has reacted to these comments. According to the Vatican, the idea of a vengeful God was "a pagan vision dating from the pre-Christian era."
Father Cavalcoli was also attacked by Archbishop Angelo Becciu, number two in the Vatican's powerful Secretariat of State.
He said the comments were "offensive to believers and disgraceful for non-believers." He urged survivors and victims to forgive the priest, while adding that they have the "solidarity and support" of Pope Francis.
JOIN OUR PULSE COMMUNITY!
Recommended articles
Africa's richest man Aliko Dangote seeks to raise an additional $1.1 billion to complete his refinery project by 2023
8 African countries where Rihanna plans to launch her luxury Fenty Beauty products
#AMVCA 2022: Best and worst dressed celebrities
'Go back to your 3rd World country' - WNBA star Liz Cambage accused of igniting fight against Nigeria's D'Tigress
8 passive income ideas for African fashion designers
Blasphemy: Tension in Sokoto as protesters demand release of Deborah's alleged killers
Ifuennada's N58M dress and the many lies celebrities tell [Pulse Editor's Opinion]
New Music Friday: Latest releases featuring Davido, Burna Boy, Asake, Zinoleesky, Rema and others
5 characters from 'Blood Sisters' that got fans buzzing