Reno Omokri, Church member defend Man of God
Reno Omokri, Richard Akinola, a renowned journalist and a church member have risen to the defence of the preacher.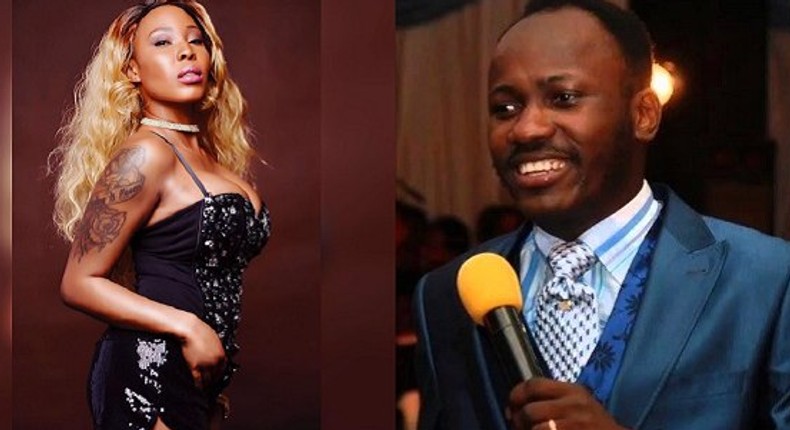 Last week, news of an affair between Apostle Johnson Suleman and a Canadian-based lover flooded the Internet.
In spite of the growing evidence mounting against the founder of Omega Fire Ministries, there are still people that have risen to the preacher's defense.
One of them is the former Special Adviser to ex-President Goodluck Jonathan on Electronic Media, Reno Omokri.
Using his Facebook account, he advised people to stop jumping to conclusions based on hearsay, adding that he was standing with the Apostle.
He wrote, "Some of you are here on facebook spitting venom on Apostle Johnson Suleman for an accusation whose veracity you are not sure of.
"I just read from a fellow on facebook who wrote a statement with a lot of ifs. You are filled with ifs and yet you are making judgments? Rather than give the man the benefit of the doubt, you start casting aspersions and slurs.
"Do not wait until it happens to you before you know that there can be smoke without fire. If you have too much bile and venom inside you, then unleash on corrupt politicians. But before you bury Apostle Suleiman, I will urge you to wait until he dies.
"Apostle Suleiman, I do not think you are guilty, but no matter the case, in good times and bad times I will stand by you!"
Richard Akinola, Executive Director of Media Rights Agenda (MRA), has also weighed in on the scandal.
The renowned journalist and legal practitioner, released an article, saying that he was choosing to give Suleman the benefit of the doubt.
He ended the long article with this: "I am not in any way trying to defend Suleiman but my instinct tells me there is more to this that meets the eye. I am not carried away by all the salacious details of Otobo. I would rather wait for her trial in court where all the facts would be laid bare, after rigorous cross examination and evidences. I know that Suleiman has only made tentative statements on this issue, perhaps not wanting his proposed evidence in court to be ambushed. That is my reading."
A member of the Omega Fire Ministries has also defended the pastor saying, "As a member of omega fire ministry this my view is that its only apostle Suleiman's wife and God that can condemn him."
Suleman and his wife of 19 years, Mrs Lizzy Suleiman, appear to be unbothered, as they were recently seen dancing during Sunday service yesterday.
JOIN OUR PULSE COMMUNITY!
Recommended articles
19-year-old girl stabbed multiple times in Accra after catching her brother & mother having sex
Sex Education: 5 ways to prevent premature ejaculation
5 ways to protect yourself from snake bites in the toilet
Man builds house upside down; toilet, kitchen & everything inside is overturned (video)
Sperm- killers, here are 7 things that men need to watch out for
Tiwa Savage changes song lyrics as Salma Mumin rains dollars on her in Istanbul club
8 signs your guy really wants to marry you
Super Falcons star Francisca Ordega shows off curves in stylish outfit [Photos]
North Korean man who smuggled 'Squid Game' into the country to be sentenced to death