Pastor's alleged sex scandal continues as Stephanie files $5M lawsuit in Canada
Rather than die, Apostle Suleman's alleged sex scandal with Stephanie Otobo remains a hot topic.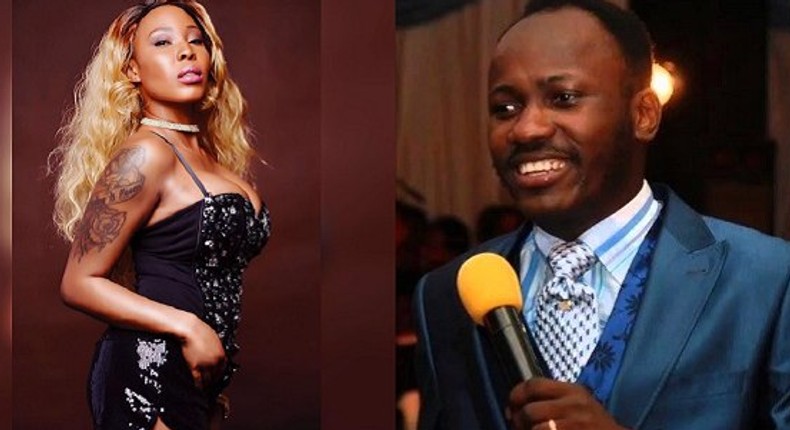 For weeks, we have been spared news of Apostle Sulemans
Unfortunately, the break is over as the pastor's alleged mistress has filed a $5M lawsuit against the clergyman.
According to numerous sources, the lawsuit, filed in Canada, demands a restraining order on the founder and General Overseer of the Omega Fire Ministries Worldwide. She is asking the court to stop the pastor from coming beyond 500 meters, and contacting or communicating with her, directly or indirectly.
The lawsuit also asked for Suleman to pay for damages resulting from the breach of trust, breach of fiduciaryrelations, breach of contract, negligence, defamation, poisoning, intentional and negligent infliction of emotional stress, forcible confinement, multiple instances of battery, false imprisonment, fraud, assaults, sexual assaults, sexual harassments, harassments and malicious prosecution, all of the things that their alleged affair has caused her.
This comes after the clergyman slammed her, along with online news outlet, Sahara Reporters, with a N1 billion lawsuit.
Just like Otobo, he is suing her for damages done to his reputation, and the media outlet for being the first to report the story and publish interviews.
Meanwhile, Pulse readers were asked to weigh in on the controversy.
450 people voted. 188 said they think Apostle Suleman is innocent, while 126 said no.
However, 136 went with with 'not interested' option.
This poll just shows that Men of God are untouchable in Nigeria. Do you agree?
JOIN OUR PULSE COMMUNITY!
Recommended articles
4 side effects of being a virgin for too long, according to research
Twerking Wendy Shay threatens to snatch someone's man with her slim waist in 'wild' video
Ayisha Modi goes naked on IG as she flaunts her newly 'acquired' body (VIDEO)
Police save little boy who hid inside aeroplane's engine to travel abroad (video)
Serious prayer & tongue-speaking by passengers as aeroplane develops fault mid-air (video)
19-year-old girl stabbed multiple times in Accra after catching her brother & mother having sex
You should not do any of these while visiting the Oba's palace in Benin
Nollywood veteran Clem Ohameze receives N8M for spinal surgery
Highlights from Wizkid's show at the O2 Arena: featuring Buju, Tems, Chris Brown, Burna Boy, DJ Tunez and more