Naira Redesign: Over 50% of unbanked population at risk of losing savings
As Nigerian rush to beat the deadline set by the Central Bank of Nigeria, (CBN) to deposit their old naira notes in exchange for the redesigned notes, fresh reports have revealed that 50% of Nigerians who do not have the requisite materials to own and operate a bank account may lose their savings.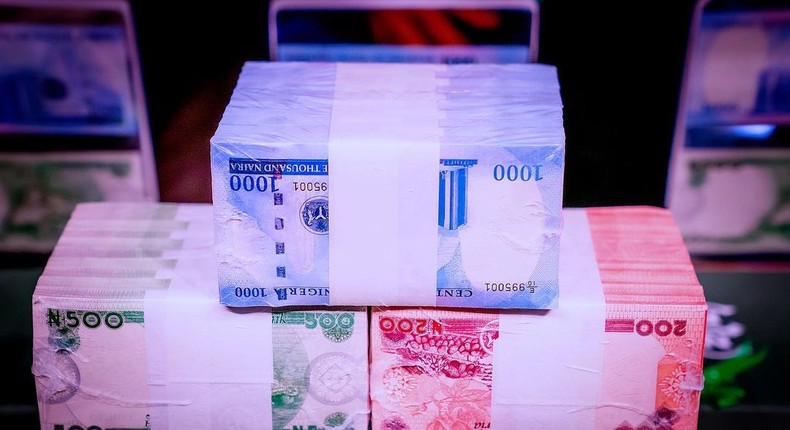 This report titled Naira Redesign Impact was presented by an advocacy programme known as Inclusion for all Initiative.
The programme monitors and seeks financial and economic inclusion for Nigeria's poorest and most vulnerable communities who do not have access to financial products.
In order to fasten the adoption of the redesigned notes into circulation, the apex bank had directed commercial banks across the country to make sure their ATMs are loaded with the new notes.
This, however, has failed to meet expectations as the new notes are yet to meet the target distribution level thus the introduction of the CBN's cash-swap programme.
Findings by the inclusion for all initiative indicated that out of the 38 million unbanked Nigerians, about 20.1 percent do not have the necessary identity documents to aid them in getting a bank account.
The report also identified that 83.2 percent of the same population lacked proof of address while 85 percent lacked documentation for tier-3 bank accounts.
While shedding more light on the report, the Head, Inclusion for all Initiative, Chinasa Collins-Ogbuo, said: "54.2% of Nigeria's unbanked poor indicated their preference for saving their money in a safe place at home or carrying it around, indicating that more than 50% of this segment of the population could lose their savings if they are unable to exchange old notes for new notes."
The report seems to agree with similar inputs by the Miyetti Allah cattle rearers group and recently, the Yobe state Governor as both have called for an extension of the deadline date.
According to the leader of Miyetti Allah Cattle Breeders Association of Nigeria, (MACBAN) South-East chapter, Gidado Siddiki, the deadline should be extended for another three months so that members of the association can bring out their money from the forests to avoid huge losses on their part.
The Yobe governor, Mai Mala Buni on the other hand, lamented the absence of financial institutions in about 13 local government areas in his state meaning the residents of the affected LGAs are completely unbanked.
While some notable voices have called for the CBN to move the dates forward to allow the unbanked Nigerians set their houses in order, the CBN governor, Godwin Emefiele has insisted there will be no extension.
JOIN OUR PULSE COMMUNITY!
Recommended articles
2000 jobs created by $16 million solar project endorsed by Nigerian president
Power Forward celebrates Ninth year anniversary
Here's how much weddings cost in these 5 African countries
PENGASSAN wades into petrol price increment, targets erring outlets as price hits N650 per liter
Redesigned notes: Black market sales skyrocket despite DSS clampdown on illegal currency racketeers
Here are some tips and tricks for managing a Gen Z workforce in Africa
German firm invests Sh350 million in Kenya to make the country a leading distributor of its product
UBA appoints Abiola Bawuah as first female CEO for Africa Operations
Wakanow Partners with ValueJet to boost local flight inventory