F4F: Nigerian graduates can now apply for Farmers for the Future Grant
The Farmers for the Future Grant is an annual competition organized for fresh Nigerian graduates and National Youth Service Corps (NYSC) members with 3 months to pass out from the scheme, aged 18 years and above, to support them with the finance and resources to start and scale their creative agri-business ideas and ventures into successful and sustainable enterprises.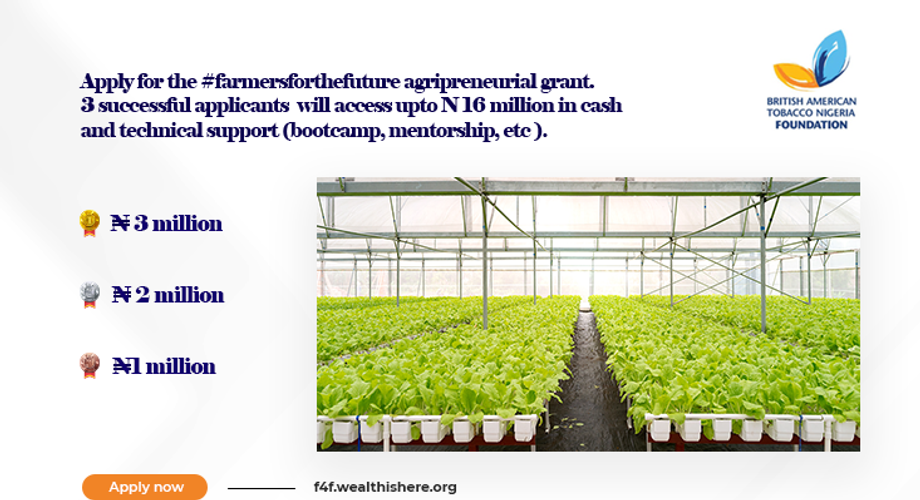 The grant is sponsored by the British American Tobacco Nigeria Foundation (BATNF), in partnership with NYSC and implemented by SAEDConnect.
The goal of the grant is to make agribusiness attractive, reduce youth unemployment, and drive youth engagement in agriculture.
Interested applicants are required to develop creative agribusiness proposals and submit them by responding to an online expression of interest. Ten(10) shortlisted finalists will pitch their business to an expert panel of judges and the best three candidates will be selected and awarded cash grants to establish their agricultural enterprises.
In addition to the cash prize, the scheme will provide the winners with technical support in capacity building programs, links to financial institutions and investors for follow-on financing and/or credit facilities, mentorship by seasoned entrepreneurs and agric experts, and support with business registration & other legal & regulatory requirements.
The first Cohort of the program held in 2019 and produced three beneficiaries who were awarded grants worth 5million naira, 1.5million naira, and 1million naira respectively.
The 2nd cohort, which opened for application on 28th February 2020 and closes 14th March is targeted towards batch A NYSC corps members only of year 2020.
*This is a featured post.
JOIN OUR PULSE COMMUNITY!
Recommended articles
itel S17: A selfie smartphone with unbeatable features for users
Big battery, big screen, beautiful design? itel S17 has it all
Does the choice of web hosting company matter for your business?
NGX opens week with N153bn loss on MTNN, Nestle loses
AAAN, MIPAN, OAAN, others okay new advertising industry practice guidelines
Consumers resort to firewood over rising cost of cooking gas
Meet the Ghanaian entrepreneur who has developed wireless earbuds that can translate 40 languages
What You Need To Know About The Certificate Of Occupancy – C Of O
Vendease commemorates World Food Day 2021 with donations to food traders