To receive the full story plus other insights each morning, click here .
Sunday evening marked the end of the cultural phenomenon that is HBO show "Game of Thrones" (GoT). Since its parent WarnerMedia was acquired by AT&T, the network also recently underwent a significant departure when former CEO and Chairman Richard Plepler who greenlit GoT stepped down in February. Under new leadership, observers have questioned whether HBO can successfully forge ahead.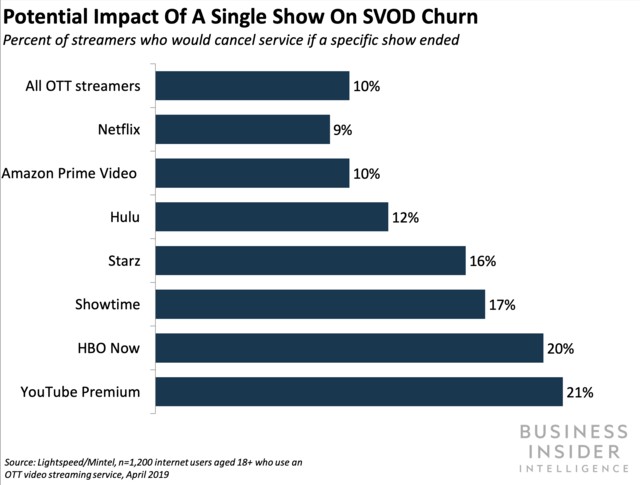 Potential Impact of a Single Show on SVOD Churn
Business Insider Intelligence
Here's what it means: With the end of GoT, HBO is losing a huge viewership driver that routinely boosted its subs and just as the streaming landscape is heating up.
GoT has had a remarkably succesful run, and has consistently pulled in more fans each season.The show ended with an average of 17.3 million same-day viewers for the final season, with the final episode hitting 19.3 million viewers a stark comparison with its average of 9.1 million viewers for season one.
To put the popularity of Game of Thrones in perspective, "Westworld" HBO's second most popular show enjoys about a third of the number of viewers as GoT.
GoT's absence leaves a meaningful void for fans who have followed the series for the past eight years and presents a potentially meaningful threat to HBO's subscriber growth.HBO could see an exodus of subs with GoT's conclusion.
The network's subs are twice as likely to cancel due to their favorite show ending than subs to other services: 20% of HBO Now subs indicated they would cancel their subscription if their favorite show ended versus 10% of all streamers who said the same, per Mintel.
As of March, HBO Now had about 8 million subscribers, meaning as many as 1.6 million could cancel. While still just a fraction of HBO's total 140 million global subs, of which 50 million are in the US, any amount of churn is tough to stomach especially as new SVOD threats emerge in Disney and Apple.
The bigger picture: The end of GoT may create a sensation of disorientation for fans, but HBO has been gearing up for a while, and has a succession plan in place.
As the network prepares for a future without GoT, its strategy focuses on three core aspects:
HBO plans to continue telling stories within the Game of Thrones universe.The network is in the process of building out prequels to GoT, along with other spinoffs that should help retain and eventually win back avid fans of the show. The strategy also somewhat mirrors competitor Disney, which is developing original spinoff series based on the Star Wars and Marvel universes for Disney+. HBO has already begun filming a prequel, and has several other projects in the works, along with a docuseries on the filming of the last GoT season.
HBO is putting out 50% more original content this year versus last year, bumping scripted programming hours from 100 to 150.The network is spreading itself far and wide to try and ensure it generates some more mass hits. As part of its content push, the network's programming slate is honing in on younger and niche demographics. For example, the network's new and returning originals slate is stacked with shows like "Euphoria," featuring young adult superstar Zendaya, and "Watchmen," based on the dystopic 1985 comic phenomenon.
The network is pushing an optimistic forward-looking marketing campaign. Before the GoT series finale on Sunday, HBO pushed an all-series trailer featuring the slogan, "It's just the start ." The two-minute promo shows snippets from some of HBO's top shows, ostensibly seeking to prove that the network is more than just GoT.
Interested in getting the full story? Here are two ways to get access:
1. Sign up for the Digital Media Briefing to get it delivered to your inbox 6x a week. >> Get Started
2. Subscribe to a Premium pass to Business Insider Intelligence and gain immediate access to the Digital Media Briefing, plus more than 250 other expertly researched reports. As an added bonus, you'll also gain access to all future reports and daily newsletters to ensure you stay ahead of the curve and benefit personally and professionally. >> Learn More Now
See Also: