CBS's SVOD services CBS All Access and Showtime have reached their original goal of 8 million subscribers by 2020 two years earlier than the company projected, per comments made during the companys Q4 earnings last week.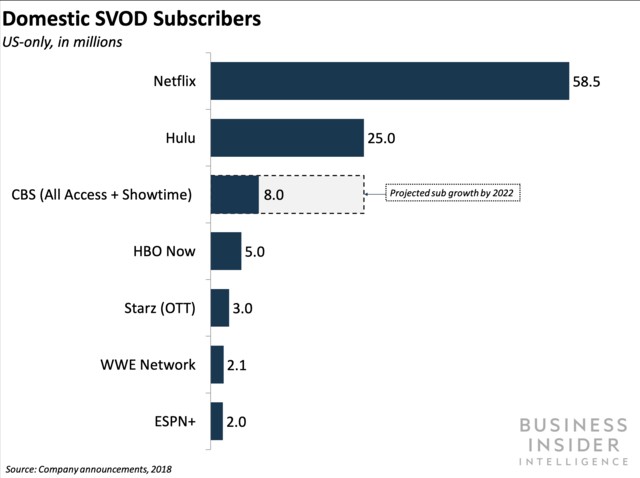 Business Insider Intelligence
Further, CBS raised its SVOD target to 25 million domestic subs across both services by 2020, up from its previously stated goal of 16 million.
The quarter capped off a strong year for CBS's streaming service.Affiliate fee and subscription fee revenues were up 11% year-over-year (YoY) in Q4, driven by a 53% jump in subscription revenue from direct-to-consumer services, as well as increases in retransmission revenue the fees that traditional programmers make from distributors in exchange for carrying their content. In FY 2018, CBSs revenue from subscriptions and affiliate fees grew 62% YoY.
CBS is among the few legacy media companies that has built a successful streaming business.With 8 million subs across its two services with roughly half going to each CBS now has more streaming subs in the US than HBO Now, which had about 5 million as of its most recent update last February.
CBSs success in streaming has been led by a few factors:
Timing: Part of CBSs success has come from getting an early start. While other big media companies like Disney bided their time, CBS jumped into the streaming market: CBS All Access launched in October 2014, and the standalone OTT version of Showtime launched in July 2015.
Brand strength: For 15 of the past 16 years, CBS has consistently reigned as the most-watched channel in the country. The broadcaster has some of the most popular programming on linear television, boasting seven of the top 10 comedies on TV, including the No. 1 The Big Bang Theory, and six of the top 10 broadcast dramas. While that doesnt quite mean what it used to, a sizable audience remains for CBS programming, which focuses on appealing to a mainstream audience. CBS programming's ability to attract a sizable audience has helped its case with distributors, including skinny bundles.
Original content: CBS has also driven subs to its SVOD by reviving two key pieces of IP: "Twin Peaks" for Showtime and "Star Trek" for CBS All Access. CBS execs credited both of the shows for driving " palpable " sign-up growth after they premiered exclusively on the platforms. Along with generating income through its own SVOD, CBS is also likely to continue with a strategy of licensing some originals to other SVODs, as long as it doesn't expect to cannibalize its own growth: Last year, for example, CBS licensed international streaming rights to Netflix for "Star Trek: Discovery" for all countries outside the US, allowing it to retain domestic exclusivity.
Its a big year for SVOD, and competition will steepen dramatically over the next several months.Major traditional media players like Disney, WarnerMedia, and NBCUniversal are all expected entrants later this year and early next year, as is Apple, which will make good on its streaming video plans early this spring.
CBS's streaming success to date demonstrated most recently by its Q4 earnings is a good indicator that it stands a chance of surviving the looming intensification of competition in the space.
See Also:
SEE ALSO: Traditional TV usage is declining across every demographic here's how digital media companies are recreating content bundles