Nigerian billionaire, Tony Elumelu, shares 5 useful tips for young professionals
These words of advice are for people who are hungry for success.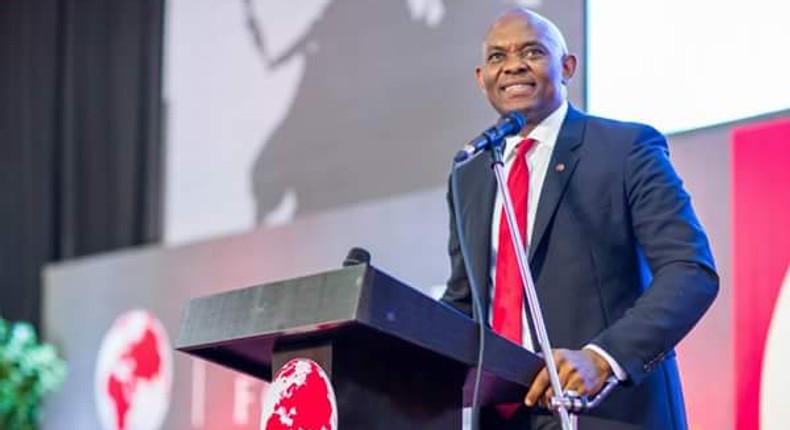 Nigerian billionaire and Chairman of Heirs Holdings Limited, Tony Elumelu has shared five
After spending with some outstanding people described as "the next generation of young leaders," the accomplished businessman, took to his blog to share some important career advice for people who are hungry for success.
How you start is important
According to Elumelu, who also doubles as the Chairman of the United Bank for Africa Plc, young professionals need to start out right in a well-structured environment.
He explains, "It helps to cultivate discipline which is directly correlated with your productivity and ability to produce results. The best organisations for young people are those who recruit objectively and transparently (not based on who you know or who put in a phone call), train and capacitize young professionals, place round pegs in round holes, i.e. deploy talent to where it is best suited, give people access to the right tools to execute their tasks, keep them challenged, measure and appraise staff fairly, and finally, reward and commend results and sanction failures. Any organisation that follows this merit-driven chain will give you a great career start."
For the successful banker, dreams are great as long as you are ready to put in the work to see them come true. He stresses the need for dreams to be backed with a lot of hard work.
In his words, "Your aspirations and yearnings are normal… It's okay to want more. But you must remember that you must deserve more to desire more. You must put in the hours, the long nights, the sacrifice, and the diligence. While it is okay to yearn for more, you must work hard enough to earn the promotion, the pay rise, the title change, the salary increases etc."
He continues, "Have a clear picture of the destination you desire but instead of letting frustration set in, let those desires become the fuel that drives you to attain your goals. In a merit-driven system, people are rewarded for their hard-earned results, and leaders never take credit for the work of their subordinates. You will rise according to your productivity, advance in your career, and be exposed to even more responsibilities."
"As you climb the ladder, remember that you owe it to those coming after you to train, teach and inspire them as well,"  Elumelu adds.
Work on yourself constantly
Nigerian billionaire encourages young professionals to always work on themselves, constantly striving to be the best version of themselves.
"The best-spent money is that which is spent on your self-improvement," he says. "… Your generation has unhindered access to quality information, much more than those before you, so you should take advantage of it and develop yourself. Read, learn, feed your intellect, and strive to expand the horizons of your mind. Learning is a long-term investment, and it never stops rewarding."
Work on your people skills
For Elumelu, working on people skills needs to be a priority for young professionals. He encourages this set of people to avoid distractions, working instead on the right relationships that should last for life.
He writes, "Never take others for granted. Nurture your relationships... In the same way, as you start out in your career, build your relationships, seek to learn, don't be afraid to understudy the experts, reach out to potential mentors and learn from them."
"Develop these relationships with managers and mentors while leveraging them as a springboard for more opportunities," he adds. "At the same time, don't neglect your peers. Needless rivalry, cliques, office gang-ups and gossip in the workplace do not benefit anybody. Stay away from these distractions."
Leaving the county isn't necessarily the solution
Acknowledging the popular desire to seek greener elsewhere, Elumelu encourages young people to change their perspective. Rather than focusing on only the economic challenges, he charges this set of people to also look at the endless opportunities in Nigeria.
In his words, "You don't have to check out, to travel out of the country to become successful. I hear of many young people travelling abroad as a way to escape the economic challenges. What I often say to them is that yes, challenges are real on the continent, but so are the opportunities… but never forget that there are immense opportunities available to you right here on the continent. If someone like me, from an ordinary background, could make it, what makes you think you can't?"
See more career advice from billionaires here.
JOIN OUR PULSE COMMUNITY!
Recommended articles
'BBTitans': Big Brother asks Kanaga Jnr to leave the house to treat injured finger
Is Tems really the first Nigerian woman to win a Grammy?
Kate Henshaw and Chidi Mokeme share kiss... stir reactions from many
'BBTitans': 2 housemates break one of Big Brother's greatest rules
Supreme Court suspends CBN deadline on naira notes swap
'Grammy nominee wey dey live for trenches' - Peter Okoye blasts Seun Kuti for comments about Peter Obi
5 veteran actors we miss onscreen
Portable storms streets with food and gifts, win the hearts of many
Veteran actors Chidi Mokeme and Hank Anuku reunite in heartwarming video