5 books you need to read during the Christmas holiday according to Billionaire Bill Gates
The American business magnate has shared his 2018 reading list for the festive season.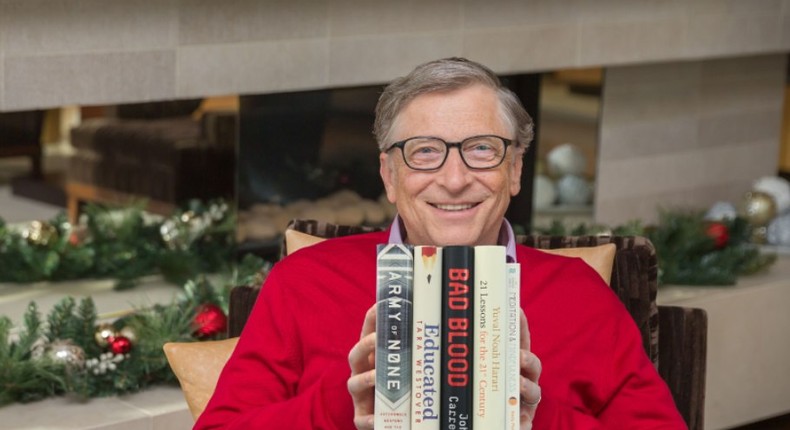 Twice a year, American billionaire
In the new post titled, "5 books I loved in 2018", the popular philanthropist shares five books you should be reading this holiday season, noting that they are also "highly giftable."
Revealing why he chose these books, Gates writes, "My list is pretty eclectic this year. From a how-to guide about meditation to a deep dive on autonomous weapons to a thriller about the fall of a once-promising company, there's something for everyone. If you're looking for a fool-proof gift for your friends and family, you can't go wrong with one of these."
The list starts with a memoir of a highly accomplished woman who grew up in a Mormon survivalist household and ends a guide to meditation and mindfulness.
Written by Tara Westover, it follows the author's life from growing up in an isolated in a Mormon survivalist household to leaving home at age 17 and eventually getting a PhD from Cambridge University.
According to Gates, the book is about those who "remove themselves from society because they have these beliefs and knowledge that they think make them more enlightened. Their belief systems benefit from their separateness, and you're forced to be either in or out."
This is a rather unexpected holiday book by Paul Scharre that offers explains what A.I. in warfare is all about. Despite the complicated topic, the American business magnate writes that "this thought-provoking look at A.I. in warfare is hard to put down. His fluency with the subject should come as no surprise: he's a veteran who helped draft the U.S. government's policy on autonomous weapons."
This is a look at a blood testing company called by investigative journalist John Carreyrou. Gates writes, "A bunch of my friends recommended this one to me. Carreyrou gives you the definitive insider's look at the rise and fall of Theranos. The story is even crazier than I expected, and I found myself unable to put it down once I started."
He adds, "This book has everything: elaborate scams, corporate intrigue, magazine cover stories, ruined family relationships, and the demise of a company once valued at nearly $10 billion."
21 Lessons for the 21st Century
This is written by Yuval Noah Harari who explains why humans worry so much and offers tips for dealing with anxiety.
"If 2018 has left you overwhelmed by the state of the world, 21 Lessons offers a helpful framework for processing the news and thinking about the challenges we face," the American philanthropist says.
The Headspace Guide to Meditation and Mindfulness
Last on Gates' reading list is a guide to meditation and mindfulness by Andy Puddicombe, the co-founder of meditation app maker Headspace.
"I'm sure 25-year-old me would scoff at this one, but Melinda and I have gotten really into meditation lately.  If you're thinking about trying mindfulness, this is the perfect introduction," he writes.
JOIN OUR PULSE COMMUNITY!
Recommended articles
10 African countries with the highest debts to the IMF
Meet the Sapeurs, Congolese who wear expensive outfits though they live in poor communities
Dangote refinery finally receives its first shipment of crude after years of delay
10 African countries with the largest population lacking electricity
Top 10 African cities with the highest purchasing power
Egypt's richest man joins trending billionaire migration to UAE
10 African countries with the highest fertility rate in 2023
World Bank to provide electricity for 100 million Africans by 2030
5 ways to spot a sex addict or know if you are one