3 employer branding tips for Nigerian organisations
Employer branding, in simple terms, refers to the process of building an employer's reputation. When done correctly, it is a strategy that can help your company attract the right candidates.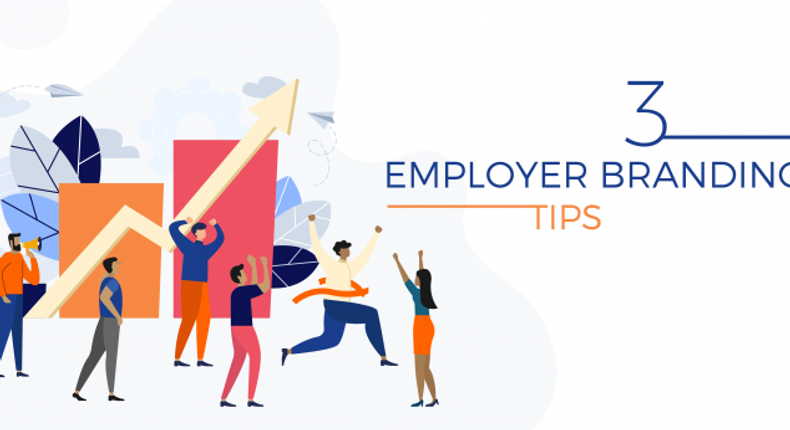 Furthermore, employer branding seeks to communicate your brands' reputation and value to employees rather than customers. Employee branding is important because to a very large extent, having the right talent impacts positively on your corporate branding.
Millennial's (those born between 1982 and 2000) and Gen Z (the newest generation to be named and were born between 1995 and 2015) now make up the largest population of the Nigerian workforce. What this means is that old employer branding strategies might need to be discarded or upgraded to meet their needs. Take a look at 3 employer branding tips you should consider implementing.
Is Your Vision & Mission Relatable?
Ensure your organisation's vision and mission are well defined to connect and appeal with employees or prospective employees both at a social and emotional level. When your organisation's purpose and values are openly known and relatable, it becomes easier to pick it up and run with the entire team towards a common goal.
Don't Forget About Candidate Experience
Pulse Nigeria
Recruitment is an opportunity to market your brand to prospective employees, whether they make your shortlist or not, would carrying on a perception of your organisation from the moment they see your advertorial to researching the organisation.
This is why your employee retention strategy should not begin when employees are hired but rather, even before you advertise for roles. Consider how productive your hiring processes are, how you schedule and invite candidates for interviews as well as the workplace perks you offer beyond a competitive salary that makes you the preferred choice for qualified employees? It's time to rethink your candidate experience.
Social Media
Pulse Nigeria
Establish what your brand voice and social media strategy for achieving your employer branding goals are and implement. This should include using storytelling techniques to share great content about your organisation that helps prospective candidates make informed decisions on your different social media channels.
Share behind-the-scenes content and other employee-related activities. Ensure you are consistent and active on all your chosen social media channels. In your strategy, you should also encourage your employees to be social media conscious as they are an extension of your organisation's employer branding online.
Diversity in Employer Branding
In a world where discussions often centre on having an inclusive work environment, gender equality and offering equal opportunities for all employees or prospective employees without the prejudices like gender, race, religious beliefs hindering their entry or career growth.
Ensure your employer branding strategy captures and communicates opportunities for a diverse workforce.
Tell what companies you think they deserve to be on the list of Best 100 Companies to Work For in 2019. Take our the survey now.
JOIN OUR PULSE COMMUNITY!
Recommended articles
Clubless Super Eagles star Kelechi Nwakali surprisingly rejects ₦9.9million salary
Burna Boy drops track list for upcoming album
When and where to watch Super Eagles of Nigeria vs São Tomé and Príncipe
Israel Adesanya survives Drake curse with victory against Jared Cannonier
'I have never raised my hand to hit my wife' - Chacha Eke's estranged husband speaks
Owo massacre: Amotekun arrests suspects in connection with church attack
Taiwo Awoniyi set for Union Berlin return just 28 days after joining Nottingham Forest
N600m Unilorin commercial poultry farm begins operations
Top 5 transfer hijacks in Premier League history