The Ebola outbreak in DR Congo is the 2nd deadliest in history and end is not in sight
International Rescue Committee says hundreds more people will lose their lives in the current Ebola outbreak in DRC.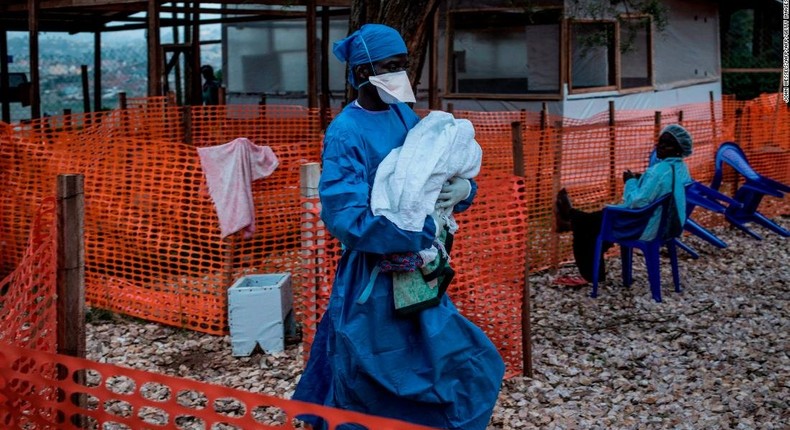 The International Rescue Committee (IRC) stated this in a statement released on Thursday, November 29, 2018.
The Rescue team said the DR Congo Ebola has reached 426 cases, surpassing the number of cases in the 2000-2001 Uganda outbreak and the 2014 West Africa case which killed over 11,000 people.
The epidemic disease is believed to have killed more 245 people, spread across 14 health zones with 426 cases of infection.
Ebola is said to be more prominent in North Kivu and Ituri provinces where attacks by armed groups and community resistance to health officials have hampered the response, IRC said in a statement.
Michelle Gayer, Senior Director of Emergency Health at the International Rescue Committee, said, "This tragic milestone clearly demonstrates the complexity and severity of the outbreak...we're witnessing how the dynamics of conflict pose a different kind of threat: a protracted outbreak is highly likely and the end is simply not in sight."
"The outbreak is far from under control and it is highly likely that it will not be beaten for another six months. We fear that hundreds of more people will lose their lives in this outbreak."
According to IRC, more than 13 million people are in need of aid as DRC is one of the world's most complex, chronic and long-standing humanitarian crises.
The country has suffered 10 Ebola outbreaks since the virus was discovered there in 1976.
JOIN OUR PULSE COMMUNITY!
Recommended articles
5 outfits for 5 days of work inspired by Regina Daniels
Cement price will hit ₦9k due to FG's plan to introduce concrete roads — Manufacturers
BREAKING: Supreme Court building engulfed in flames
Whitemoney's team responds to allegations that they sold his votes
Fireboy pays tribute to Mohbad at his Trace Live concert
4 highlights from Thursday's pool party on 'BBNaija All Stars'
Africa's food insecurity to be non-existent in the next 5 years - AfDB
Meet the 6 finalists on 'BBNaija All Stars'
How to make 'masa' or rice cakes, a Nigerian Hausa delicacy