Nigeria's Aliko Dangote and Tony Elumelu named among the 100 most influential philanthropists in the world
Aliko Dangote occupies the sixth position as the world's most charitable person while the Billionaire banker and founder of Tony Elumelu Foundation, Tony Elumelu, makes the 11th position on the list.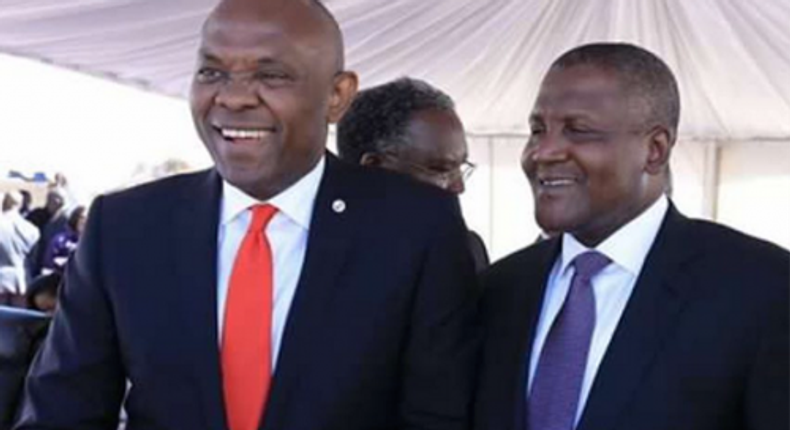 Two Nigerian billionaires,
Aliko Dangote was recognised as the sixth charitable man in the world while the Billionaire banker and founder of Tony Elumelu Foundation, Tony Elumelu, was 11th on the list.
Richtopia, a United Kingdom-based digital platform, says it used Kred scores (Kred Influence Measurement) - a platform that attempts to measure online social influence based upon an openly published algorithm – to compile the list.
Derin Cag, founder of Richtopia, in a post on Wednesday, October 25, 2018, said the list contains proactive philanthropists around the world.
Top billionaires like Warren Buffett, Bill Gates and J.K. Rowlings occupy the first three positions, while Oprah Winfrey and Elon Musk were in the fourth and fifth position, respectively.
On his Twitter account, Dangote had called on other well-meaning Nigerians to support this worthy cause and help ameliorate the pains and sufferings of people affected by unrest in the North-East.
In June 2018, he inaugurated a village (Dangote Village) built for the Internally Displaced Persons in Maiduguri, the Borno State capital.
ece-auto-gen
Tony Elumelu, on the other hand, though his Africapitalism idea has implemented one of the most ambitious entrepreneurship programmes globally.
According to a statement on its website, in its 4th year, the TEF Entrepreneurship Programme has empowered 4,460 entrepreneurs with a total investment of $20 million; 4,000 funded directly by the Foundation and 460 funded by partners.
Every year, the foundation host about 5,000 young Africans in Lagos for Africa's largest entrepreneurial convening.
The 2018 forum feature the launch of the TEFConnect, the world's largest digital platform for African entrepreneurs, dedicated to connecting African entrepreneurs and the entrepreneurship ecosystem.
These are the top 20 most influential philanthropists around the world:
Chairman and CEO of Berkshire Hathaway
Bill and Melinda Gates Foundation
JOIN OUR PULSE COMMUNITY!
Recommended articles
Meet the Sapeurs, Congolese who wear expensive outfits though they live in poor communities
Nigeria's currency hits a new record low on the official market
Top 10 African cities with the highest purchasing power
Aliko Dangote announces refinery license to process 300,000 barrels of Nigerian crude daily
10 African countries with the highest fertility rate in 2023
Top 10 African countries leading in attracting and retaining talents
Top 10 African cities with the most expensive real estate
7 reasons women don't get wet even when aroused
UK High Commissioner laments how 'corruption is holding Ghana back'