"If we are genuinely concerned about the future of Africa, then we must do something about it"
Tony Elumelu speaks to Business Insider about entrepreneurship culture, the changes in the Nigerian economy, forex policies, the role of young Africans in the rebirth of the continent's economy and the opportunities for Africa in 2017.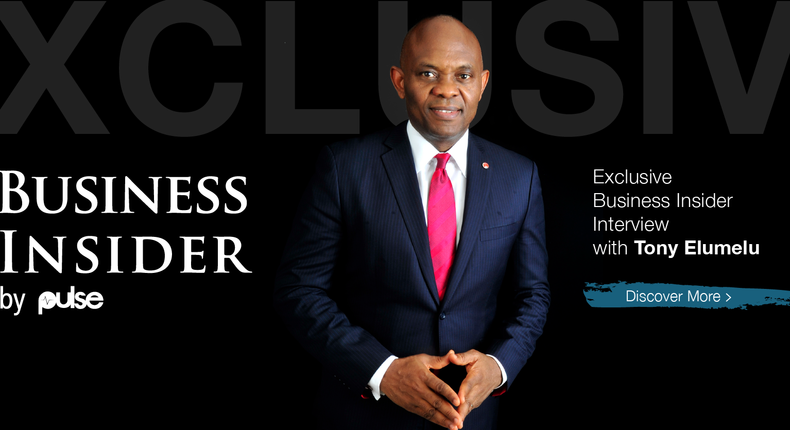 Business Insider: How are you enjoying the cold weather in Davos this year?
TE: Davos is very exciting, very cold but I love the opportunity to meet people from across the world, in one place. In three days, you're able to talk to almost everyone you'd like to see in a year. It's wonderful.
Business Insider: Over the past year, we've seen a lot of change in the Nigerian economy. If we look at the price of oil, the recession and if you take these change into account, how does your time at Davos this year compare to one year ago?
TE: I think Nigeria, like every other country, especially in Africa, is going through challenging times but we are quite forward-looking because the fundamentals remain very strong.
So going through this is a cycle and the key thing to us is how we are grappling with the cycle and I'm happy that there is a concerted effort between government and the private sector to make a difference, and it has become a blessing in disguise in the sense that we are now focusing more than ever before on diversifying the Nigerian economy.
We will become less dependent on commodity price and more resilient and robust. This is what as a country we have resolved to do and this is what we believe will transform the economy and that is why we say the glass is half-full; to some, they see challenges and problems; to some, they see opportunities. And we are here to talk to those who see opportunities out of Nigeria.
Business Insider: What is your opinion on the current forex policies that the Federal government has implemented and how do you think they will affect foreign investments?
TE: I would say that the source of foreign exchange for Nigeria remains oil sales. Not long ago, I spoke about the need to diversify our economy away from commodity shocks or commodity prices; so what we are going through in Nigeria is a result of the fact that we're quite reliant, heavily dependent on oil, and the price of oil is not controlled by Nigeria and that is how we earn foreign exchange. So, as it is with our elementary economics, demand and supply.
The supply is influenced by external factors, and that is the oil price. The demand remains strong, because of the size of the Nigerian economy, so what is happening is there is so much demand pursuing contracted supply and the point at which demand and supply intersect is a price. And so, it will continue, government and the authorities are on a daily basis grappling to deal with it.
The solution to this, in the long run, is to diversify our economy so that we have multiple sources of generated foreign exchange.
Now, to foreign investors, how does this affect them? As I said before, the glass is half-full, some might see it as a challenge and this is not the time to invest in Nigeria. Some might see it as an opportunity that with little Dollars you bring into the economy, you get more Naira and you can use that to establish good things, take early positions and things will definitely turn around because of the seriousness that everyone is paying to it. And as things turn around, they can profit.
So, for me and my group, what are we doing? We remain very strong and optimistic about Nigeria. We continue to invest in Nigeria, we are in the process of closing a transaction that is in excess of two billion Dollars. We would not be investing in Nigeria if we didn't have confidence. What I've been saying to partners here is these are challenging times but the fundamentals are strong and we know that challenging times don't last, so come invest long-term and when the market turns around, you'll enjoy from it.
Business Insider: In terms of local businesses, especially SMEs, what do you see the short and long term effects are going to be in the Nigerian economy?
TE: As you may know, I have a foundation; The Tony Elumelu Foundation. It was set up to assist African entrepreneurs. I set aside 100 million Dollars to support these entrepreneurs, a thousand of them every year over a period of 10 years, across Africa, in all 51 African countries. Small-scale entrepreneurs in Nigeria, in Kenya, in Ghana, they face the same thing. What these guys need is not necessarily foreign exchange, they need stability, they need the right operating environment. They need to make sure that there's policy stability, they want access to electricity. They want functional infrastructure that will enable their business to do well and enable them to compete. Provide this to these young ones, they will help us to solve our economic problems.
Business Insider: What inspired you to start your own foundation?
TE: I was born and bred in Africa. I've worked all my life in Africa. And I've earned some sort of livelihood from Africa. And at some point in life, you begin to think of basic realisations; one is that poverty anywhere is a threat to mankind, two is the fact that, at some level, at some point, it's not about the wealth you accumulate as a person or a family that's important if people all around you are in poverty.
If you're afro-centric to a large extent and you think of the future of Africa, you realise that you can't do much, that is the ideology in us. You also realise that there is so much unemployment in Africa and that the government and large businesses to a large extent don't even generate enough jobs. What creates jobs is the SMEs.
So if we are genuinely concerned about the future of Africa and our young ones then we must do something about it. I thought that the best way to make our people self-reliant and independent is to give in a manner that is sustainable, that's why I decided to support young entrepreneurs through my foundation.
Business Insider: There's a lot happening in Nigeria lately when it comes to young entrepreneurs and the support. Mark Zuckerberg paid a visit in 2016, there's also initiatives such as N-Power, so clearly there is a lot of movement. What is your advice to a young entrepreneur in Nigeria? How can he or she prosper?
TE: First is they should see opportunities and not challenges because even when I started we had more challenges in Nigeria than we have today. They should persevere and realise that tough times don't last. They should be disciplined. They should stay focused. They should lay sacrifices. They should have deferred consumption; deferred consumers will save and not eat everything one day. And above all, they should think long term, because in the short term, you have hiccups and if you are short-term in your orientation, you will get discouraged.
But when you think long term, you have to be resilient. I know it is so easy to see people who have succeeded today and say look at Elumelu, look at Dangote. We too suffered to get to where we are today. So they should think long-term and look at the big picture at all times.
Business Insider: The Vice President here in Davos says he thinks that the Federal government can not simply float the Naira because according to him, "due to market conditions, that will be hard". What do you think about this?
TE: I would say that the Vice President is in a much more informed position and would be best suited to comment on this. He's in a better position to make an informed decision for the economy.
Business Insider: What is your outlook for Nigeria for the year 2017?
TE: I think things are bottoming out, the oil price is improving, Nigeria is taking diversification of its economy very seriously. Government has dealt with the security issues in the north-eastern part of Nigeria. I think things are set for the country to take off. The capital market so far; in the beginning of this year, some of the stocks that I track are beginning to do well, so I'm optimistic and hopeful that this will be a better year for Nigeria.
Business Insider: Thank you for taking the time to chat with us.
TE: You're welcome. Cheers.
JOIN OUR PULSE COMMUNITY!
Recommended articles
10 African countries with the highest debts to the IMF
Meet the Sapeurs, Congolese who wear expensive outfits though they live in poor communities
Egypt's richest man joins trending billionaire migration to UAE
10 African countries with the largest population lacking electricity
World Bank to provide electricity for 100 million Africans by 2030
Top 10 African cities with the highest purchasing power
10 African countries with the highest fertility rate in 2023
Demand for used cars in Nigeria surges amid high inflation and declining GDP
5 ways to spot a sex addict or know if you are one