Growth in Sub-Saharan Africa for 2018 has been cut to 2.7% from a
The bank stated in its 18th edition of Africa's Pulse report released on Wednesday, October 3, 2018.
The report stated that "economic recovery in the region is set to continue but at a more gradual pace. Growth in the region is projected to increase from 2.7% in 2018 to 3.3% in 2019, rising to an average of 3.6% in 2020–21."
It attributed the cut to the sluggish expansion in the region's three largest economies, Nigeria, Angola, and South Africa.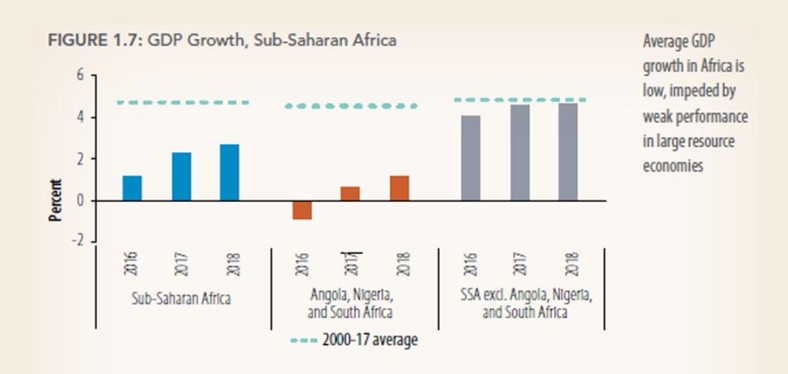 The World Bank said Nigeria and Angola are currently experiencing lower oil production while weak household consumption growth compounded by a contraction in agriculture negate South African economy.
ALSO READ: Like South Africa, Nigeria may slip back into economic recession
The rest of the countries in the region have been growing steadily this year including those that don't depend on commodities, such as Ivory Coast, Kenya and Rwanda, the bank said.
Albert Zuefack, the World Bank's chief economist for Africa, said public debt continues to rise in a number of countries in Africa exposing the countries to new risks.
He urged policy makers in the region must equip themselves to manage new risks arising from changes in the composition of capital flows and debt.
In June 218, the World Bank projected growth in Sub-Saharan Africa to rise to 3.1% in 2018 and to 3.5% in 2019, from 2.6% in 2017.
The bank had based its report on the pickup in manufacturing activity with renewed government commitments to macroeconomic and governance reforms Angola, South Africa, and Zimbabwe.
It, however, said risks remain tilted to the downside, faster-than-expected tightening of monetary policy in advanced economies could dampen investor appetite for higher-risk assets in frontier markets.
Also from Business Insider Sub-Sahara Africa: