The 2018 Asia Mobile Awards (AMO) ceremony was held at the Mobile World Congress Shanghai. Huawei Video Conference Cloud Service won the Best Mobile App Award, demonstrating Huaweis innovative transformation and successful practices in the enterprise communications field for cloud services.
The Asia Mobile Awards, issued by GSMA, is an influential award in the Asian mobile industry. It aims to recognise the outstanding achievements and innovations of the Asia Mobile industry, and is also a stage to lead excellence, innovation, and achievement in Asia.The Best Mobile App for Business award recognises enterprise and productivity applications that introduce the most innovative mobile tools to help small, medium or large corporations and enterprise users.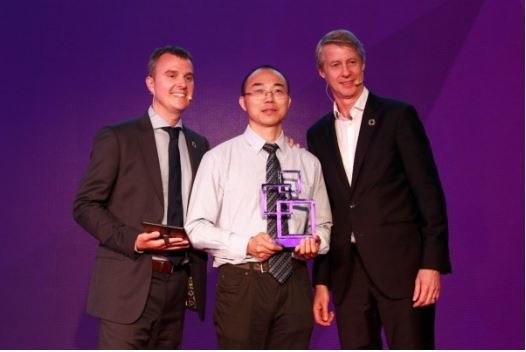 Huawei video conference cloud service is based on the cloud platform and series of terminals. It provides simple, efficient, and optimal video conferences for enterprise users and becomes a basic office tool that supports enterprise information connection and real-time decision-making.
1. The one-stop enterprise communication cloud service is used to meet the communication requirements of enterprise team collaboration, customer service, mobile office, production, and operation. The AI technology is introduced to make conference services more intelligent, user-friendly, and enable digital workplace and intelligent working.
2. Support mobile video conference, voice, and instant messaging with convergent mobile soft client CloudLink, allowing users to select any site to view its large image (including professional sites) at any time, and supporting various conference joining modes, such as free of account. Communication and collaboration between employees are not restricted by geographical locations any more.
3. Provide portable conference endpoints, such as the "six-in-one" cloud videoconferencing endpoint TE10 (camera, codec, microphone, speaker, Bluetooth&Wi-Fi, and bracket), plug-and-play, delivering professional video conference at any time.
Huawei has engaged in the enterprise communications field for nearly 30 years,serving customers in over 100 countries and regions across the world, and has won the largest market share in China for many years. In the future, Huawei will continue to invest in enterprise communications, cloud services, and artificial intelligence to help enterprises further improve work efficiency and accelerate enterprise digital transformation.
MWC Shanghai 2018 runs from June 27 to 29 in Shanghai, China. Huawei is showcasing its products and solutions at booth N3.B40 in the Shanghai New International Expo Centre (SNIEC), and booth N5.ICA01 Innovation City. For more information, please visit: huawei.com/en/events/mwcs2018.
About Huawei
Huawei is a leading global provider of information and communications technology (ICT) infrastructure and smart devices. With integrated solutions across four key domains – telecom networks, IT, smart devices, and cloud services – we are committed to bringing digital to every person, home and organization for a fully connected, intelligent world.
Huawei's end-to-end portfolio of products, solutions and services are both competitive and secure. Through open collaboration with ecosystem partners, we create lasting value for our customers, working to empower people, enrich home life, and inspire innovation in organisations of all shapes and sizes.
At Huawei, innovation focuses on customer needs. We invest heavily in basic research, concentrating on technological breakthroughs that drive the world forward. We have more than 180,000 employees, and we operate in more than 170 countries and regions. Founded in 1987, Huawei is a private company fully owned by its employees.
For more information, please visit Huawei online at www.huawei.com or follow us on:
This is a featured post.