10 greatest quotes from Alice in Wonderland
Yippee! Lewis Carroll's children's classic, Alice in Wonderland, turns 150 this year.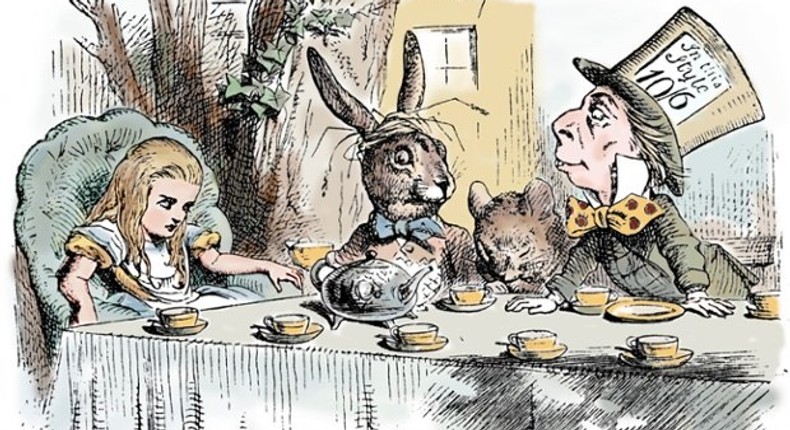 Lewis Carroll's children's classic, Alice in Wonderland, turns 150 this year.
For a century and a half this wonderful book has delighted and puzzled us in equal measure. We have fallen down the rabbit hole with Alice, taken tea with her and the Mad Hatter, been maddened by the Cheshire Cat and had to convince the Queen of Hearts that we didn't steal her tarts!
Alice in Wonderland was first published in 1865 and was inspired by a boat trip that author Lewis Carroll took with some family friends, the Liddell children, down the River Thames in Oxford. He told the youngest daughter, Alice, a story as they rowed along and she begged him to write it down. When he got home that evening he began straight away.
The book, and its sequel Through The Looking Glass and What Alice Found There, have been translated into at least 65 languages, including Cornish and Latin, and countless film and theatre adaptations have been made.
Alice in Wonderland is a book that remains as enchanting as ever, no matter how many times we reread it. Here, to celebrate its birthday, Here are some of my top 10 favourite quotes!
"Who in the world am I? Ah, that's the great puzzle."
"Why, sometimes I've believed as many as six impossible things before breakfast."
"If I had a world of my own everything would be nonsense nothing would be what it is because everything would be what it isn't."
"I can't go back to yesterday because I was a different person then."
"No wise fish would go anywhere without a porpoise."
"And what is the use of a book," thought Alice, "without pictures or conversation?"
It would have made a dreadfully ugly child; but it makes rather a handsome pig, I think."
"Open your mouth a little wider when you speak."
"You used to be much more...muchier. You've lost your muchness."
"Now, here, you see, it takes all the running you can do, to keep in the same place. If you want to get somewhere else, you must run at least twice as fast as that!"
JOIN OUR PULSE COMMUNITY!
Recommended articles
Top 10 African countries with the most transparent GDP data
Top 10 African cities with the highest population growth from 2022 to 2023
PTAD set to unveil "I Am Alive" confirmation portal for pensioners
Diya's country home in Ogun devoid of sympathisers
Nigeria is planning to unlock revenue from the sale of tickets on international airlines and launch Nigeria Air by May
African countries with the cheapest household electricity prices
Train crash: Bus driver begs for forgiveness after psychiatric, drug tests
Top 10 most ethnically diverse countries in Africa
Uganda expects its debt load to reduce and its economic growth to increase by 7%